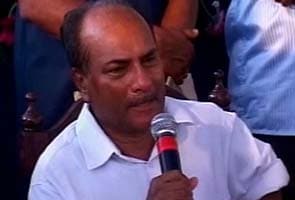 Kozhikode:
Declining to be carried away by the clamour for the removal of PJ Kurien as Rajya Sabha Deputy Chairman, for his alleged involvement in the the Suryanelli gang-rape case, Defence Minister AK Antony today said "let the law take its own course".
Mr Antony, however, said no evidence has been found during probes conducted during the tenure of both the UDF and LDF governments in Kerala against Mr Kurien in 1996 case.
"The (state) government has received another complaint after the (recent) Supreme Court verdict in the case. Let the government decide. If the government's decision is not acceptable (to the aggrieved party) the court can be approached again," Mr Anthony told reporters in Kozhikode.
Prefacing that he is not a human computer to recall every aspect of the case, Mr Antony said, "When I got the complaint (as Chief Minister in 1996), I immediately referred it to the Crime Branch. After the investigation, 36 accused were convicted by the trial court. Mr Kurien got discharged."
Striking a different note, Congress national spokesman PC Chacko said the party would discuss the issue before the budget session of Parliament commences later this month.
Talking to reporters in Thrissur, Mr Chacko said, "We will be taking a decision on all issues, including this (Kurien issue), before the Parliament session begins on February 21."
"The high command will not be closing its eyes to any issue coming before the party. We are alert to every issue agitating society and the high command will discuss and take an appropriate decision," Mr Chacko added.
Meanwhile, Mr Kurien said in Nedumbassery near Kochi that he had nothing more to add to what he had already said. He has been maintaining that he is innocent and the charges against him have been rejected by the Supreme Court.