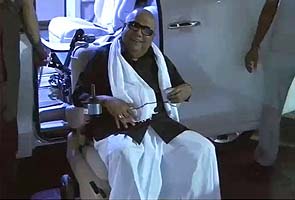 Chennai:
Key UPA constituent DMK has said that India should press the United Nations to undertake a "referendum" on the Eelam Tamils issue.
"India should press United Nations to undertake a public vote on the Eelam Tamils issue. DMK will be supportive to the Centre if it takes a stand to pressurise the UN (in taking a referendum)," DMK President M Karunanidhi said last night.
"The referendum was not only taken for the benefit of Tamils living in Tamil Nadu and Sri Lanka but for those living across the world," he said.
The DMK leader was speaking at a function to facilitate party Treasurer M K Stalin and DMK Party Parliamentary Leader T R Baalu, who reached Chennai from Geneva after submitting resolutions adopted by party-backed pro-Sri Lankan Tamils outfit TESO to the UN.
The two leaders' visit to the UN was a "success", Mr Karunanidhi said, adding, "there was a long way to go to reap success in the issue of Tamil Eelam".
Earlier a grand welcome was accorded at the Chennai Airport to Mr Stalin and Mr Baalu by scores of party cadres led by Mr Karunanidhi.
The two had left India on October 30 to submit the resolutions taken at TESO conference held in August to the United Nations.
They presented the resolutions to United Nations Deputy General Secretary Jan Eliasson on November 6. Mr Stalin had also participated in a World Tamil's Federation meeting in London on the same day.