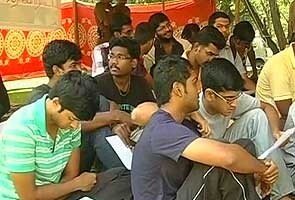 Chennai:
Engineering colleges in Tamil Nadu would reopen on April 3, over a fortnight after they were closed following students' protests over the Sri Lankan Tamils issue, authorities announced today.
After discussions with the state government, the Vice-Chancellor of Anna University, under which more than 500 engineering colleges function, decided to reopen the colleges from April 3, a university release said in Chennai.
"There will not be any change in the academic and regular examination schedule," the statement added.
All engineering colleges, including constituent institutions of Anna University and private colleges, were closed indefinitely on March 15 following the students' stir at the height of demands for India's support to US-sponsored resolution against Sri Lanka in the UNHRC last month.
On March 27, Chief Minister Jayalalithaa, while piloting a resolution in the Assembly last week demanding that India move a resolution in the UN Security Council for a referendum for separate Tamil Eelam, had appealed to the students to withdraw their stir and return to classes.
However, there is no official word yet on when the arts and science colleges, which too were closed in the wake of the students' protests, would reopen.