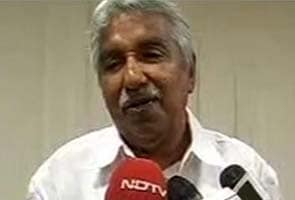 Thiruvananthapuram:
Kerala Chief Minister Oommen Chandy today took the high moral ground saying he was right in trying to save the marriage of his former minister KB Ganesh Kumar and asked the opposition not to take advantage of a domestic problem.
Mr Chandy has been accused by Mr Kumar's wife, Dr Yamini Thankachy, of not helping her despite an appeal earlier that she was a victim of domestic abuse. The Left-led opposition, feasting on the scandal and on Mr Chandy's embarrassment, has noisily stalled assembly proceedings, saying he must resign.
No resignation, said the Chief Minister today. "I will do everything to save a family, I am not concerned about my image. This has been my style of functioning," he told NDTV.
Yamini Thankachy wept at a press conference on Monday as she accused her husband Ganesh Kumar, then a minister in the UDF government headed by Mr Chandy, of physical abuse and torture for 16 years. Hours before that Mr Kumar, a former film star, had filed for divorce and accused his wife in court of beating him up.
Ms Thankachy also accused the CM and other ministers of cheating her, alleging that she had appealed in a written complaint to Mr Chandy for help almost a month ago, but that he did not accept her letter, promising an out-of-court agreement. She later said she had accused the CM of "cheating" because she was agonised.
Mr Kumar was asked to resign on Monday evening after Ms Thankachy met the Chief Minister and made a formal police complaint. Mr Chandy says the two letters that she handed to him then were her only written communication with him on the matter and that he promptly handed them over to the police chief.