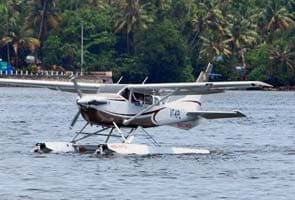 Kollam:
Kerala Chief Minister Oommen Chandy on Sunday launched the country's first seaplane service from the backwaters in Kollam.
Initially, the six-seater Cessna 206 H amphibian aircraft will be utilised for this service, which will be launched officially for tourists in August.
"By the end of this year, four more companies will be launching their seaplanes and will operate them from the Thiruvananthapuram, Kochi, Khozikode and Mangalore airports to the backwaters in Kollam, Alappuzha, Ernakulam and Kasargode districts," state Tourism Minister A.P. Anil Kumar said.
The launch of the service, however, faced a protest from a Left-backed fishermen's organisation in Alappuzha, forcing the seaplane to change its landing location.
The tourism minister later told IANS that owing to poor weather conditions, and also due to the protest in Alappuzha, the chief minister did not want the seaplane to land there.
"The fishing community in Kollam has given its approval to the tourism project. Now, we will speak to the community at Alappuzha to convince them that it will not threaten their profession. I travelled on the seaplane after the pilot took us around the Kollam city," Kumar said.