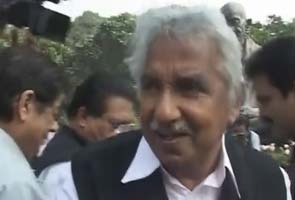 New Delhi:
Amid political crisis in Kerala over solar panel scam, Chief Minister Oommen Chandy today said there will be a Cabinet reshuffle very soon in the state as he tried to reach out to Hindu caste organisations which are up in arms against his government.
The beleaguered chief minister, who discussed the political crisis with party Vice President Rahul Gandhi, also alleged that the CPM-led Left Democratic Front or LDF tried to attract the United Democratic Front or UDF allies in its fold and topple his government engulfed in the crisis after the exposure of the scam.
"The Congress High Command will take a decision on Cabinet reshuffle very soon," he said while inviting Pradesh Congress Committee chief Ramesh Chennithala in the Cabinet. "I am the happiest man for that," he told reporters when asked about Mr Chennithala's entry into Cabinet.
He, however, refused to say whether he was ready to give the PCC chief the Home portfolio - a contentious issue within the state Congress.
Asked about the Hindu caste organisations' reservations against his government dominated by members from minority Christian and Muslim communities, Mr Chandy said he and his party enjoy good relations with the Nair Service Society, a caste outfit of upper caste Nairs, and he was ready to discuss the issues with them and "remove all the suspicious situations".
"Congress party is a party of all sections. Congress party has no reservation to anybody, any section. Congress party and myself have a good relations with Nair Service Society. If there is any reservation, definitely we will discuss and remove all the suspicious situations," Mr Chandy said.
Accusing the Left parties of making attempt to sabotage his government surviving on wafer thin majority, the chief minister said, "They tried to get somebody from UDF but everybody rejected."
Mr Chandy asserted that his government will continue its full term but refused to say whether he will be at the helm of the party.
"No doubt. The UDF government will complete its full term. I am there whenever the party leadership allow me," he said.