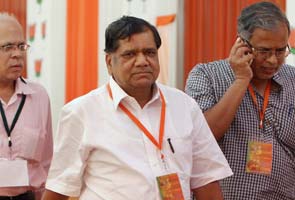 Bangalore:
BJP MLAs in Karnataka, who had remained loyal to former chief minister B S Yeddyurappa, showed their support to him by submitting their resignation from the Assembly to Speaker KG Bopiah. However, Mr Bopiah, who was out of town the first time they tried to resign, said he needed more legal advice.
The delay in accepting of the resignation has, however, not deterred the MLAs who wish to resign. One of the MLAs, B P Harish, said, "From morning, 11 of 12 MLAs came to the speaker's office. But he has accepted only one resignation letter. He wants to take legal opinion from law secretary before accepts others. If he does not accept this letter, we will not move from here."
Suspended Tumkur M P, G S Basavaraj, said it was a deliberate ploy by the Speaker to protect the government.
Loyal BJP MLAs from the state unit have already asked for the disqualification of Mr Yeddyurappas's followers. Claiming that the Jagadish Shettar government in the state is safe, they demanded the dismissal of five MLAs for their "attitude" to the BJP.
Ironically, Mr Yeddyurappa is the man who picked Mr Shettar for the post; however, Mr Yeddyurappa now has a new party to rival the BJP - the Karnataka Janata Party.
Many see the newest Karnataka BJP crisis as a move by the dissidents to embarrass the party and the chief minister ahead of the Budget Session, which is scheduled to begin on February 4. Mr Shettar is expected to make his maiden Budget speech on February 8. If the Governor does ask the state government to prove majority on the floor of the House in a Confidence vote, he will have to do so before February 8.
Mr Yeddyurappa has been threatening to bring down the BJP's first government in south India since last year, when he accused his party of reneging on a promise to give him a powerful position. He was forced to resign as chief minister after he was indicted for corruption in a report on illegal mining.
The party tried to assuage him by allowing him to pick his replacement, not once but twice. In both cases, Mr Yeddyurappa turned against his successors. He has vowed to defeat the BJP in the state elections this year with his Karnataka Janata Party (KJP).