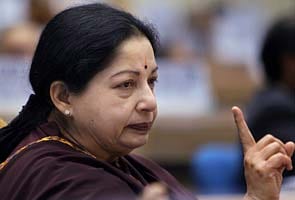 Chennai:
With the Centre's gazette notification of the Cauvery Water Tribunal's verdict in favour of Tamil Nadu and a slew of populist measures, Chief Minister Jayalalithaa completes two years in office today. And Amma's eyes are now set on a bigger role at the Centre.
The final award of the Cauvery Water Disputes Tribunal is seen as one of the most defining moments of Jayalalithaa's career. On a direction from the Supreme Court, the Centre in February notified the award which apportioned Cauvery water among Karnataka, Tamil Nadu and Kerala. Tamil Nadu got tge lion's share.
The 65-year-old leader struck a chord with many sections of people in the state with the launch of budget canteens to tackle price rise. The 'Amma' canteens, as they are known, serve an idli for Re one and sambar-rice at Rs five and have been a huge hit.
Another pro-people scheme that won her praises is the distribution of free laptops to students.
But her third term as Chief Minister has also been chequered. The state government's abandoning of the Rs 1500-crore new Assembly complex built by DMK chief M Karunanidhi, the initial ban on Kamal Haasan's film Vishwaroopam and Jayalalithaa's not so smooth way of functioning with the Centre have come under criticism.
There is also a huge discontent over the continuing power crisis in the state, an issue which the Opposition parties are seeking to capitalise on. People in many parts of the state are enduring power cuts running into more than 16 hours a day.
With monsoon failing, Jayalalithaa how has a huge challenge before her to tackle the drought and imminent drinking water crisis. Despite repeated requests, Centre has remained mum on her requests for more funds. However, a Central team recently visited drought-hit areas of the state.
On the industrial scene, Jayalalithaa unveiled 'Vision 2023,' an ambitious scheme expected to bring more industries and better infrastructure to the state.
The charismatic leader has made it clear that AIADMK will forge electoral alliance neither with Congress nor BJP for the coming Lok Sabha polls. She also inspired her partymen to work for netting all the 40 Lok Sabha seats in the state (39 in Tamil Nadu and one in Puducherry).
Jayalalithaa may now want to play a key role in national politics, but that would depend on her party's performance in the 2014 polls.