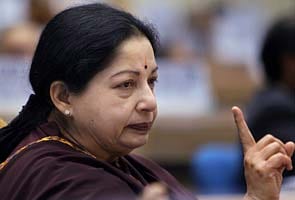 Chennai:
Demanding an immediate roll back of today's "steep" fuel price hike, Tamil Nadu Chief Minister J Jayalalithaa urged the Centre to withdraw the authority given to oil marketing companies to fix fuel prices.
In a statement, the chief minister said "instead of taking steps to control the falling of Indian Rupee (against the US Dollar) revising fuel prices will further lead to erosion of the economy".
Quoting RBI Governor D Subbarao's recent remarks that the falling Indian rupee was due to the "domestic structural factors," Ms Jayalalithaa said, "until corrective measures are taken, there is no possibility to control the depreciation of Indian rupee and due to this, constant revision of fuel prices also becomes unavoidable."
"I request the Central Government to take corrective measures at least now," Ms Jayalalithaa said.
She reiterated her earlier statements that instead of considering the domestic crude oil production, revising fuel prices based on international oil prices would only make the oil marketing companies to yield profits but would not benefit the public.