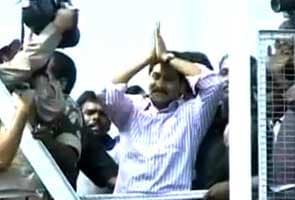 Tirumala:
YSR Congress President YS Jaganmohan Reddy's visit to Tirumala's Balaji Temple on Wednesday morning has turned out to be controversial, because, critics say, he went in for a <i>darshan</i> without signing the formal declaration about his faith in god, violating the temple rules.
The Tirumala Tirupati Devasthanams (TTD) rules require people belonging to non-Hindu religions to sign a formal declaration for the <i>darshan</i> of Lord Balaji. Jaganmohan Reddy, son of former Andhra Pradesh Chief Minister YSR Reddy, is a practising Christian.
Jagan Reddy's supporters claim, that he had visited the temple earlier, in 2009, and had signed a declaration at that time. According to the supporters, the procedure need not be repeated. However, some others say it has to be done every time a non-Hindu enters the temple. They point out that even high profile visitors like Congress President Sonia Gandhi have followed the formality.
Jagan Reddy visited the temple along with his party's Tirupati candidate Bhumana Karunakara Reddy, who has been the TTD chairperson in the past, and 60 others. A VIP <i>darshan</i> slot was reportedly allotted to the Kadapa MP and he was allowed to go in along wih all his supporters.
TTD Executive Officer, LV Subramanyam has said an inquiry has been ordered and it is being ascertained whether it is necessary to sign the declaration every time a person visits the temple.