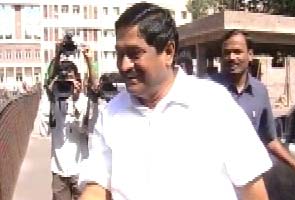 Hyderabad:
Politician Jagan Mohan Reddy has spent 11 weeks in a Hyderabad jail on charges that include criminal conspiracy and corruption. Six ministers from the Congress government and an equal number of bureaucrats at least are being investigated for their alleged collusion with Mr Reddy, and his father, YSR, who was the chief minister of Andhra Pradesh till he died in a helicopter crash in 2009. One of the six ministers, Mopidevi Venkatramana, is already in jail and another, Dharmana Prasad Rao, has been named accused number five in the fourth and most recent chargesheet presented by the Central Bureau of Investigation (CBI).
The case against Mr Reddy states that he used his father's position as chief minister to push industrialists to invest in his businesses. 26 government orders reportedly helped facilitate favours to these companies in exchange for quid pro quo investments in companies owned by the chief minister's son.
The new chargesheet presented in court today relates to the Vanpic infrastructure project in 2008 - the construction of ports and an industrial corridor in the Prakasam and Guntur districts, intended to industrialize this largely-agricultural area. At the time, Dharmana Prasad Rao was Revenue Minister.
The project was meant to be a joint venture between the Andhra Pradesh government and the Emirate of Ras Al Khaimah. Less than three weeks after that, the RAK Investment Authority wrote a letter to the Andhra Pradesh government stating that a company named Matrix, owned by industrialist Nimmagadda Prasad, would be the implementing agency for the Vanpic project.
The CBI says that in exchange for the Vanpic project, Nimmagadda Prasad invested 800 crores in Mr Reddy's empire.
The CBI says that the Vanpic deal was riddled with irregularities. Among them, it contends, that though Nimmagadda Prasad said he paid 450 crores to acquire land needed for the project, he had actually given landowners 150 crores.
Interestingly, Dharmana Prasad Rao had headed a Congress panel asked to look into the reasons for the debacle of the Congress in the recent by-elections. His own family loyalty is divided. His brother Dharmana Krishna Das won the Narsannapet assembly seat in the recent by-elections on a YSR Congress party ticket.