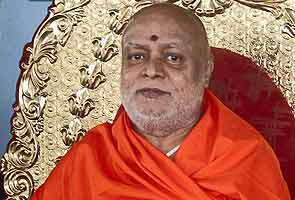 Bangalore:
Sri Balagangadharanatha Swami, an influential pontiff with large following in Karnataka, mainly from the Vokkaliga community, died in Bangalore late on Sunday after a brief illness, said doctors.
The 68-year old Swami was admitted to BGS (Balagangadharanatha Swami) Global Hospital here Saturday after he complained of chest pain. He was also suffering from heart disease and kidney problem and passed away Sunday, Venkataramana Gowda, a doctor and the hospital spokesperson told reporters.
The Swami headed the Adichunchunagiri Math, which has a branch in Varanasi and was awarded Padma Bhushan, India's third highest civilian award, in 2010 for his contribution in various fields.
The Math runs a string of educational institutions - from primary school to engineering and medical colleges - and hospitals in Karnataka.
The Swami would be given a state funeral on Monday, said Deputy Chief Minister R. Ashoka.
Chief Minister Jagadish Shettar, former Prime Minister H.D. Deve Gowda, who belongs to Vokkaliga community, and union minister Veerappa Moily were among the scores of political and religious leaders who condoled the death of the Swami, a science graduate who had taken over as 71st head of the Math on Sep 24, 1974.