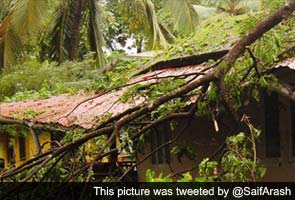 Thiruvananthapuram:
After incessant heavy rain for the last 48 hours, the government in Kerala has asked the army and navy for assistance with rescue and relief operations; landslides have blocked access to a major highway in Adimali, popular with tourists. The Kochi airport has closed and will not re-open till 3.30 pm on Tuesday, said officials.
11 bodies have been found on a stretch of National Highway 49 in Idukki in the central part of the state. The highway connects Kochi to Madurai in Tamil Nadu. Several cars have flipped over and more casualties are expected, warned officials.
Doctors and ambulances have been rushed down from nearby hill towns like Munnar.
Heavy flooding has shut down the Kochi airport; 126 flights have been cancelled; 11,000 passengers are likely to be affected, said officials. (
See pics
)
Many houses built on the slopes of the hills have been swept away by the flash floods. The Periyar river is flowing very close to the danger mark and the water level is rising in the Idukki and Mullaperiyar reservoirs.