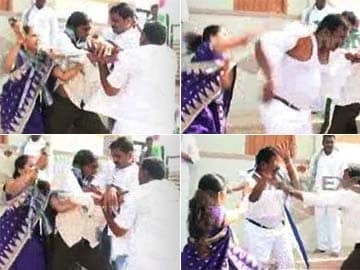 Karimnagar:
Two leaders of Jagan Reddy's YSR Congress were caught in an ugly brawl after a ceremony to hoist the Independence Day flag at the party office in Telangana's Karimnagar district.
In footage on local TV channels, a leader of the party's women's group, Susheela, was seen thrashing the district chief Bhaskar Reddy with slippers.
Two other men can be seen joining the scuffle and hitting Mr Reddy.
Towards the end, Mr Reddy's shirt was in tatters.
Ms Susheela was reportedly angry at Mr Reddy for not keeping her informed about party events and denying her the post of the district women's wing chief.
She also accused her party colleague of heckling her.
But sources in the YSRC dismissed the incident as a 'minor case of inter-party rivalry'.