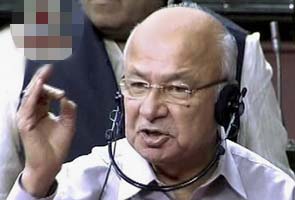 New Delhi:
Home Minister Sushil Kumar Shinde refuted accusations that the government ignored intelligence agency warnings ahead of last evening's terror attack in Hyderabad in which 16 people were killed and more than 100 injured.
"The centre took the necessary steps," Mr Shinde said in Parliament hours after he was ferociously reprimanded by the Opposition for suggesting that the warnings from intelligence agencies lacked specifics. He said the details of the alert, which could not be revealed, had been shared with state governments on February 16 and then again this week.
NDTV has learnt that the terror warning placed Hyderabad on a list of five cities confronting a security threat.
The bombs exploded minutes apart in Dilsukhnagar, a crowded shopping area.
The BJP has said that it understands and believes political parties must fight terror together. But it accused the government, as it has in the past, of lacking the political will and having "a casual approach" to the security of the country.
Its leaders referred to a warning by the Delhi Police in October that Indian Mujahideen terrorists had survey the site of yesterday's attack as a potential target. The government has been unable to explain why, despite that information, Dilsukhnagar was not heavily guarded after this week's warning for Hyderabad.
Andhra Pradesh Chief Minister Kiran Kumar Reddy acknowledged that his government had received the alert from the centre. "Police acted on the input but it is difficult to predict the time and place. That is usually decided only an hour or two before the incident," he said.