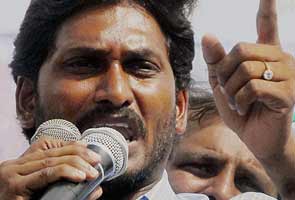 New Delhi:
Jagan Mohan Reddy, among the richest politicians in India and a prisoner for nearly nine months on corruption charges, may have just lost a large chunk of his famous fortune.
The Enforcement Directorate has taken over properties owned by him and his business associates that add upto Rs 122 crore. In April 2011, he declared his personal wealth to be worth Rs 365 crore.
The agency has been investigating Mr Reddy and his business empire for alleged money laundering. A case was registered against him under the Prevention of Money laundering Act in August 2011, less than three weeks after the Andhra Pradesh High Court ordered the CBI to probe that Jagan possessed disproportionate assets.
Four chargesheets have been filed so far by the CBI in the disproportionate assets case against Mr Reddy. The ED took cognisance of these chargesheets and also questioned Jagan and others accused in the case inside the Chanchalguda Jail in Hyderabad.
So far, the ED has issued three attachment orders against Mr Reddy, companies directly owned by him and also his business associates. The latest of the three came on January 8 ordering attachment of over Rs 143 crore worth properties.
Today's orders by the adjudicating authority upholding the attachments made by ED relate to the first and second orders, attaching Rs 51 crore and Rs 71 crore, belonging to fixed deposits and other assets belonging to Jagan's companies, Janani Infrastructure and Jagathi Publications, as also Aurobindo Pharma, Hetero Drugs and Trident.
Mr Reddy was arrested in May 2012 after the CBI said that his companies had received kickbacks from firms that were granted business licenses and permissions by his father, YSR Reddy, who was chief minister of Andhra Pradesh when he died in a helicopter crash in 2009.
Mr Reddy and his family claim that the CBI investigation has been ordered by his father's party, the ruling Congress, because Mr Reddy chose to found his own party, and has proven his popularity with major victories in recent state elections.
Named after his father, the YSR Congress is expected to perform strongly when Andhra Pradesh chooses it new government next year, along with the national elections. The attachment of assets belonging to Jagan and his business associates is however expected to be a big setback to Jagan's party.