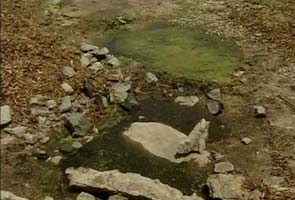 Thiruvananthapuram:
In the backdrop of severe drought and water shortage in Kerala as well as Tamil Nadu, a minister-level meeting was held between the two states today. The meeting is being described as fruitful.
"Tamil Nadu has agreed to release 100 cusecs of water everyday from Manakadu Dam till the monsoon season begins and a joint committee will consider the release of 100 cusecs of water from Sholayar dam for usage of Kerala on a daily basis within one week," said Kerala Water Resources Minister P J Joseph.
Kerala Water Resources Principal Secretary, V J Kurian said that, "because every district of even Tamil Nadu was drought struck, there is a shortage of water in what they have been able to release for Kerala, but Tamil Nadu has made an assurance of restoring a portion of the amount of water held back."
However, Kerala has said that it will continue with its case filed in Supreme Court claiming its rightful share of water from Tamil Nadu under the Parambikulam-Aliyar dam agreement. Under the agreement, Kerala is entitled to get 7.25 tmc water from the Aliyar dam between July 1 to June 30 but has received only five tmc water till March 31.
With the summer rains already short by 40 per cent and less water being released by Tamil Nadu, several areas like Chittoor have been severely affected with many check dams on the main Bharatpuzha river bed lying empty and parched. This river is known to be the backbone for irrigation in several areas of Kerala.
Tamil Nadu, however, has blamed the weak monsoon and severe drought in its districts for the inadequate release of water supply to Kerala. Meanwhile, Kerala has agreed to release 40 cusecs of water every day to Tamil Nadu from its dead storage.