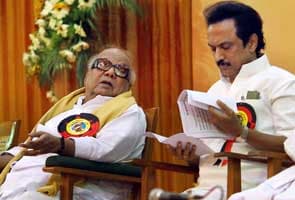 Chennai:
DMK chief M Karunanidhi has hinted strongly that his younger son, MK Stalin, will be his political heir and lead the party.
"I will struggle to help the downtrodden as long as I live. For the question 'who after that', Stalin who is seated here is the answer, don't forget," said Mr Karunanidhi at a public function today.
His other son, MK Alagiri, is a Union minister but reportedly covets leading the party.
Three years ago, Mr Alagiri had said that if an election was held for the next president of the DMK, he would contest it.
The rivalry between the brothers is well-established within the party.
The DMK is the second-largest member of Dr Manmohan Singh's coalition government.