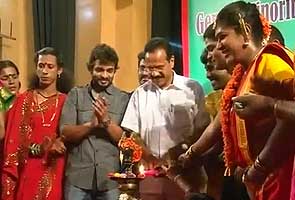 Bangalore:
Karnataka Chief Minister D V Sadananda Gowda on Monday assured the transgender community to look into their demand for establishing a separate welfare board.
Participating in the convention of Gender Minorities held in Bangalore, he said the government would also consider allocating sizeable funds for their welfare.
Sadanand Gowda said the government will address the human rights issues by gender minorities.
"I want to address you as beloved brothers and sisters but many might question me saying that we are not being treated as brothers and sisters. You should succeed in joining the mainstream and I pray to God that soon people should address you as brothers and sisters," he said.
"The demand letter given by Sangama (an NGO working for the welfare of sexual minorities) has asked for a separate welfare board of gender minorities, the government will seriously look into it and allocate money," he said.