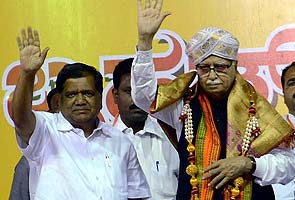 Hyderabad:
An aircraft carrying senior Bharatiya Janata Party (BJP) leader LK Advani made an unscheduled landing at the old airport at Begumpet in Hyderabad on Monday, after developing a technical snag.
Mr Advani was on his way from New Delhi to Bangalore to campaign for BJP for the next month's elections in Karnataka, party sources said.
The former deputy prime minister had to wait for nearly two hours at the airport before Karnataka Chief Minister Jagadish Shettar reached the airport in his special aircraft. Mr Advani later left for Bangalore in the chief minister's plane.
Earlier this month, a private jet carrying BJP president Rajnath Singh and senior leaders Sushma Swaraj and Arun Jaitley made an emergency landing on April 8 at Delhi airport after it developed a technical snag.
The BJP leaders were flying to Bangalore for election campaign.