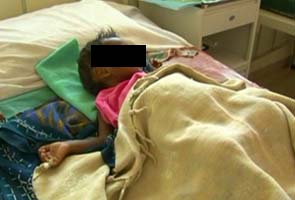 Dharwad, Karnataka:
A one and a half year old girl has been seriously injured after being thrown from the top of a double-storyed building allegedly by her own father in Karnataka's Dharwad district. The 35 year old accused, Ramesh, had allegedly been torturing the girl since her birth and tried to kill her as he wanted a baby boy.
On Monday, the father allegedly carried the girl to the first floor of their residence in Mugad village of Dharwad district in North Karnataka and threw her. The girl has a fracture on her leg. He also had allegedly inflicted injuries with cigarette butt on the baby and his wife earlier.
The girl is the couple's only child and Lakshmi, the mother, had complained to her neighbour about her husband after he threw the girl from the building. The neighbours then lodged a police complaint. The father has been arrested and remanded to judicial custody.
Doctors at the private hospital in Hubli where the girl has been admitted say, she is out if danger but she is being treated for her broken leg and the burn injury.