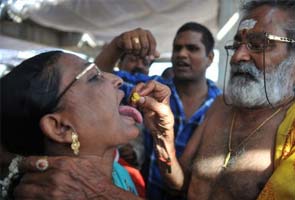 Hyderabad:
The Andhra Pradesh Lokayukta sought reports from the state government in connection with the annual distribution of fish 'prasadam' (fish medicine for asthma patients) following a complaint which sought to know whether it contained any harmful substance.
President of Andhra Pradesh Balala Hakkula Sanghama, Achyuta Rao, had filed a complaint in this regard.
He had earlier filed a petition to the Lokayukta and sought for a direction to the state Principal Secretary, Medical and Health Department, to collect sample of the medicine being supplied by Bathini Haranatha Goud and get it chemically tested for any substance that are hazardous for humans.
The petitioner further sought to know under what law the state government allotted five acres to Goud.
Lokayukta Justice B Subhashan Reddy passed an order stating that the state government's action in permitting such a conglomeration and allotting public property not for any public purpose comes within the ambit of "maladministration" - an aspect triable under the Lokayukta Act, 1983.
The Lokayukta called for reports to be filed by the state Principal Secretary, Revenue Department, Collectors of Hyderabad and Ranga Reddy districts and the Hyderabad Police Commissioner by June 3.
The 'prasadam' is distributed to thousands of people from different parts of the country at the annual event organized by the Bathini Mrigasira Trust on the occasion of 'Mrigasira Karthi'.
This year, the fish 'prasadam' distribution will be held on June 8 and 9 at the Exhibition Grounds in Nampally.