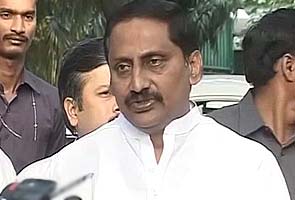 Hyderabad:
Andhra Pradesh Chief Minister N Kiran Kumar Reddy on Tuesday dared Telangana Rashtra Samiti (TRS) chief K Chandrasekhar Rao to topple the state government.
"I am waiting for you to topple it (government)...Please topple it," Reddy told reporters at a press conference in Hyderabad.
He was reacting to Chandrasekhar Rao's comments on Monday that "it was not difficult to pull down the state government and we had the strength to do so".
"We are not here at the mercy of anyone. The Congress won 50 seats in Telangana in 2009 on its own strength while the TRS, despite being part of the Grand Alliance (with TDP and Left), won only 10 seats," the chief minister pointed out.
Mr Reddy termed TRS chief as the "leader of a sub-regional party", over the latter's outbursts against Prime Minister Manmohan Singh and also former PMs Jawaharlal Nehru and Indira Gandhi besides Sonia Gandhi. (
Read
)
"We warn KCR to mind his language. We are pained by his intemperate language. He doesn't have the stature or right to call such great leaders' names," Mr Reddy said.
He also warned the TRS president that he could not achieve Telangana by raking up passions and letting people fight on streets.
Deputy Chief Minister Damodar Rajanarasimha and nine other ministers from Telangana were present at the press conference.