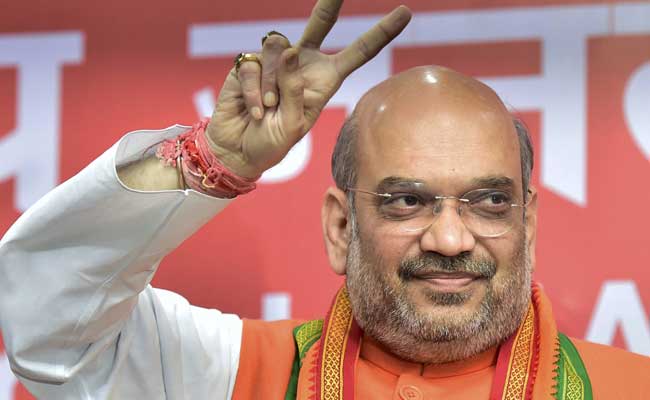 Kochi:
Hundreds of Bharatiya Janata Party volunteers received BJP President Amit Shah at Nedumbassery International Airport in Kochi today. Mr Shah, who is on a three-day visit in Kerala, arrived in the southern state some days after the central government banned sale of cattle in animal markets for purposes other than agricultural and farm use. Kerala and other states had seen protest against the new rules.
Accompanied by party volunteers on motorcycles, Mr Shah proceeded to a government guest house. During his stay in Kochi, Mr Shah will meet the Kerala BJP unit's core committee members before attending another meeting of the state's National Democratic Alliance unit. He will also meet some bishops, BJP leaders aware of his schedule said.
BJP leaders in Kerala say Mr Shah's meeting with bishops may help the party build bridges with Christians, who constitute 20 per cent of the southern state's total vote bank. Kerala BJP in-charge H Raja had said Mr Shah's meeting with bishops is aimed at "understanding each other".
Mr Raja had said the BJP was becoming stronger in Kerala. "The party has started gaining ground in Kerala. A few popular people who have so far not been in politics will be welcomed to BJP during Amit Shah's Kerala visit," he had said.
"A few such cases are on the cards. Very popular people. Such people will also be joining BJP. Throughout the country, it has been happening and Kerala will not be an exception," Mr Raja had said.
The BJP is hoping to take a chunk of Kerala's 20 seats in the 2019 Lok Sabha election. The part saw its vote share rise to 16 per cent in the 2016 Kerala assembly election, though it won only one seat. The BJP did not win any seat in the 2014 Lok Sabha election.
Mr Shah will attend party programmes in Thiruvananthapuram tomorrow.
The BJP president is likely to criticise the Congress after members of the opposition party's youth wing killed a calf in public in Kerala to protest against the government's new rule on sale of cattle at animal markets. Beef is widely consumed in Kerala.