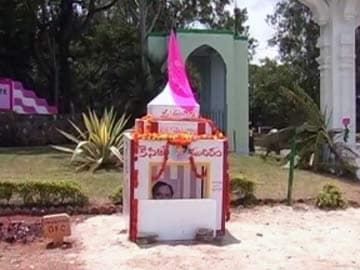 Hyderabad:
A temple for Mr KCR. That's what has been set up right outside an internationally-reputed university en route from Hyderabad to the city's international airport.
Inside the small temporary structure, there is a digital print of KCR, formally K Chandraskehar Rao, who is the first Chief Minister of Telangana. The 60-year-old is shown with a halo, blowing the conch like Lord Krishna, and inscriptions declaring "KCR Mandiram" and "Jai Telangana" surround him.
The project was the work of a group of students who are members of the youth wing of KCR's party.
The temple was erected this week. Yesterday, KCR attended a function at the university in the neighbourhood and was alerted to it. Sai, a student who conceived the project, says KCR "smiled and nodded" when he was informed of the tribute.
Sai said the temple is a well-deserved recognition of the "God who struggled and brought Telangana for the people of the state". The decades-long movement for a Telangana state was headlined in the last few years by KCR.
Before the national election in May, a senior Congress leader in the state, P Sankar Rao, commissioned wide criticism when he announced that he would build a temple for his party president Sonia Gandhi acknowledging her as "the Goddess who sanctioned Telangana." The Congress had cleared the creation of India's youngest state and then pushed the proposal through Parliament in February, alienating a huge section of its own leaders from Andhra Pradesh who were against its bifurcation.
The move designed as a vote-getter by the Congress backfired, with the party performing poorly in both Telangana and the residuary state of Andhra Pradesh.