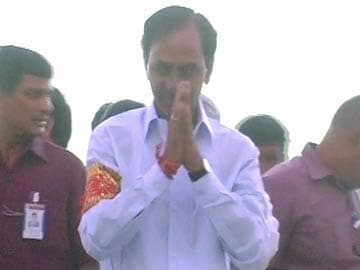 Hyderabad:
India's youngest state, Telangana, will today participate in a mega-survey ordered by Chief Minister K Chandrasekhar Rao or KCR. Priced at Rs 20 crore, the survey covers all 10 Telangana districts.
The survey, according to KCR's government, will help identify the state's beneficiaries of welfare schemes. For example, there are more ration cards currently issued in the state for families that are below-the-poverty-line than the total number of households in the state. The government has denied that the survey will be used to determine nativity, or be misused for the ethnic profiling of those who are not from Telangana, but live or work in Hyderabad. For the next 10 years, the cash-rich IT hub is a shared capital between neighbouring Andhra Pradesh and Telangana.
"There is no need to worry at all... People are coming from Mumbai, Surat, heading towards their villages, with lots of happiness (to participate in the survey). No one is being asked where you came from," said KCR.
Most offices, schools and colleges have been asked to remain closed today to allow people to participate in the survey, which was sanctioned by court after the government made it clear that disclosure of bank accounts and other personal details would be voluntary.
At a meeting brokered on Sunday by Governor ESL Narasimhan, KCR and Andhra Pradesh Chief Minister Chandrababu Naidu agreed to check a surging tide of invective, allegations and mistrust over the sharing of resources like water, power and revenue from Hyderabad. At the end of the day, Naidu said he is okay with the survey but would challenge it if the government uses 1956 as a cut-off date to determine nativity.
Apprehensions, however, still persist. 77-year-old Rukmini, says she is really worried about what she could be asked to disclose.
"I won't give my bank account number...anyone can misuse it. Income tax, Property tax I will declare but no bank account," she said.
Four lakh government employees and volunteers will go door-to-door to collate information that will give the administration a huge database of residents across the state.
Get Breaking news, live coverage, and Latest News from India and around the world on NDTV.com. Catch all the Live TV action on NDTV 24x7 and NDTV India. Like us on Facebook or follow us on Twitter and Instagram for latest news and live news updates.