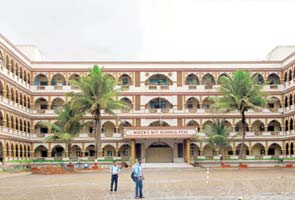 Pune:
Supriya (name changed), a Std XI student of MIT Junior College, has been admitted to hospital after an incident of alleged ragging by girls from her class left her in deep shock. The traumatised girl's parents have alleged that her classmates forced her to eat non-vegetarian food, used her new moped without her consent and even taunted her for not having a boyfriend.
Following the incident, the parents withdrew Supriya's admission on August 29 and made a formal complaint before the junior college authorities, seeking stringent action against the girls responsible.
"My daughter was studying in MIT college and for the last one month she was facing harassment by three of her classmates," Supriya's father said. "She suffered in silence for long, not uttering a single word at home or making any complaint to the class teacher or principal."
Humiliated
He said that over the one month of ragging Supriya went through, she was forced by the three girls from her class to do various humiliating things. "She was once asked to eat non-vegetarian food even though she is vegetarian," he said. "Her classmates took rides on her new moped without her consent and even teased her for not having a boyfriend. For the entire month of August she was going through these traumatic situations and finally in the last week of the month, she broke her silence and narrated the incident of ragging to us, which made us approach the police and the college."
Supriya's father said the police asked them to first approach the college. "We even approached the Kothrud police station and asked it to lodge a complaint, but the police asked us to approach the college authorities with our complaints and said that they (college authorities) should lodge a complaint in this case," he said.
Police Inspector (Crime) S B Navale of the Kothrud police station said the parents of the girl had approached them, but according to the Anti-Ragging Act the college or school should form a committee and initiate an inquiry, after which if the accused students are found guilty the educational institution should lodge a complaint with the police.
Inquiry panel
The college constituted a seven-member committee to investigate the matter on Monday. "The committee will look into the matter and will submit its report in the next seven days," MIT Junipr College Principal Dr Rohini Patwardhan said. "We have received a written complaint from the parents of the girl just yesterday, and before that we were totally unaware about the incident happening on our campus. We have to consider both sides."
Patwardhan, who is the chairperson of the college inquiry committee, made the assurance that justice would prevail. Supriya was studying in 'A' division, which has the most meritorious students in Std XI of the college.
The accusations
- The victim was forced to consume non-vegetarian food
- Her new two-wheeler was used by her classmates without her consent. When the girl protested, she was beaten up in the college parking lot
- The vicitm was teased by the accused over her not having a boyfriend