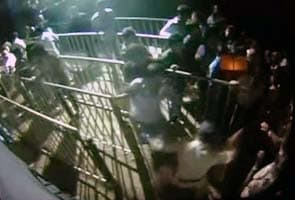 A senior police officer has been accused of beating up crew and organisers at the Enrique Iglesias concert in Pune on Wednesday. Here is the full text of the press release issued by the organisers.
At the Enrique Iglesias concert last night when the event was on and running smoothly at approximately 8:30 pm a certain Assistant Commissioner of Police (ACP) wanted to bring in guests of his who did not have appropriate passes/wrist bands to enter the event.
This certain ACP was also given substantial number of complimentary passes for his guests to be present at the event at the Platinum gate Rs.8000/- much before the event.
The organisers had already let a few dozen guests of this ACP into the platinum area without any passes or checks since the ACP was not allowing anyone to even check them.
When this ACP came with yet another group of his guests to be let into the event without any passes or wrist bands he was asked "how many more guests does he have." At that moment he was also requested to proceed into the venue, however without any additional guests. On hearing this, the ACP started hitting the organiser. He also had a stick in his hand with which he hit the organiser. Mr Vijay Nair has bruises on his back and head, Mr Manish Chandani has bruises all over his back and on his leg, Mr Rajesh Balpande has a ruptured ear drum and has difficulty hearing from the left side and has his left hand is in a cast from being beaten with a stick.
If not for the Deputy Commissioner of Police (DCP) and other authorities that were present on the scene this could have been a lot worse and gone completely out of control with the ACP assaulting the organisers. We are thankful to the DCP and the other senior authorities who managed to control this ACP who would have otherwise hurt a lot more people for no reason whatsoever.
Mr. Girish Talwar later went to the Hadapsar Police station and submitted a written application at approximately at 2:00am which was received and stamped by the concerned officer on duty with the assurance that due action would be taken.
In the last 10 years of organizing events we have never had such an experience or come across an individual who has mishandled a situation so badly.