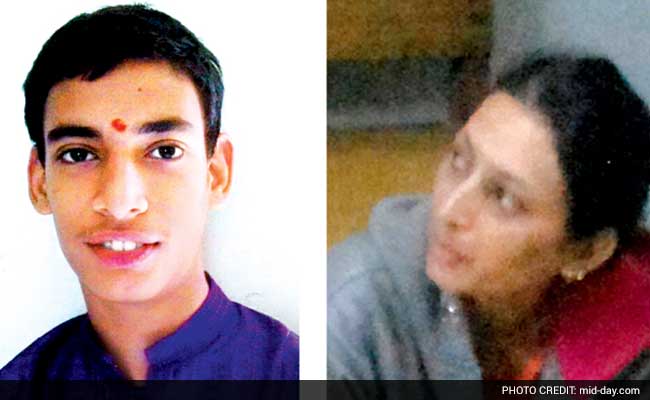 Several chilling details have emerged in the cold-blooded murder of the partially disabled Pune teenager, Chaitanya Balpande, who was allegedly beaten to death by his mother and her alleged boyfriend last week. Investigations and statements from family members have led the police to suspect that the 13-year-old's murder had a rather sinister motive: Rakhi Balpande (36), wanted to claim a Rs 10-lakh insurance policy that was in Chaitanya's name.
Mid-day's conversations with Rakhi's mother and neighbours also paint a picture of the 36-year-old as a monster mom, who used repeated beatings to keep the boy under her thumb. She would allegedly starve the partially disabled Chaitanya from time to time, force him to exercise for four hours and keep him up late at night. Rakhi had also threatened to file a kidnapping case against her own mother when the latter said she would take Chaitanya with her to save him from her abuse. A female neighbour who tried to intervene was kept at bay with the threat of filing a molestation case against her husband.
Money above all?
Speaking to mid-day, Assistant Inspector Suryakant Marode of the Vishrantwadi police station, who is investigating the case, said, "Rakhi's estranged husband, Tarun, had taken out an insurance policy in Chaitanya's name and she wished to present the murder as a case of accidental death, which is why she kept cooking up various theories. We are further investigating the case and will arrive at a conclusion by August 14, after recording the statements of Rakhi's mother and her husband Tarun." A senior officer said, "Rakhi was aware that her husband, Tarun, had taken out a Rs 10-lakh insurance in Chaitanya's name and had insisted that she be named the beneficiary when the divorce talks were on. Accordingly, Rakhi and her alleged boyfriend, Sumit More, hatched a plot to portray Chaitanya's death as an accidental one so she could claim the money from the insurance policy."
Versions galore
Chaitanya was taken to the hospital by Rakhi on August 5. She had initially claimed he had suffered a fall in the bathroom. Autopsy reports revealed that Chaitanya died due to blunt force trauma to the chest and abdomen and Rakhi later confessed to have thrashed him with a bat, but claimed she had done so because he had made sexual advances towards her. Medical and police reports suggested that the death occurred after the teenager was repeatedly beaten with a cricket bat. The bat has been sent to a forensic laboratory in Pune. Rakhi's alleged boyfriend Sumit More, who is also the landlord of the flat she was living in, was arrested on Saturday as co-accused and has been remanded in police custody till August 12.
Rakhi was presented before the judicial magistrate on Friday and remanded in custody till August 10.
Monster
Several family members have spoken to the police in order to aid the investigations surrounding Chaitanya's murder. Among them is Rakhi's husband, Tarun Balpande who has confirmed that Rakhi was eyeing the Rs 10-lakh insurance policy. He said, "In the past, Rakhi had registered two cases and three non-cognisable offences against me. She had demanded Rs 25 lakh in our divorce settlement and had also insisted that she should be named the beneficiary in a Rs 10-lakh policy that I had taken out in my son's name."
Statements from Rakhi's family and neighbours to mid-day have revealed a darker side to her. She would force her partially disabled son to exercise for four hours a day and kept him up late at night. On being asked why she did all of this, she'd reply saying that she was training her son to join the defence forces.
Rakhi's 62-year-old mother, Neela Mankar, said, "Rakhi was never a supportive mother. Chaitanya was an excellent singer and took part in Indian Idol and even cleared the first two rounds. But she never sent him to singing classes or encouraged him to do better. In fact, my daughter never fed him sufficient food and forced him to wash utensils and clothes while threatening him with dire consequences if he did not work as per her instructions. I had educated my daughters on dealing with hardships but never knew that Rakhi would turn out to be so bitter."
She added, "I was living with Rakhi and Chaitu (Chaitanya) right after she secured his custody from her husband. She would get angry and beat him for petty reasons. Once I threatened to take Chaitanya to Nagpur with me if she did not stop hitting him and she threatened me saying that she'd register a kidnapping case against me if I ever did so. Chaitu was of a very loving nature but he knew what his mother was like. He was always beaten and insulted in front of people, so he preferred to not go out with her. About a fortnight ago, when she was insisting on taking him out and he refused, she started beating him again. When the next door neighbor came to help, she yelled at them too."
Agreeing to what their mother said, Rakhi's sister says, "Rakhi was never a good mother. She never cooked for Chaitanya and kept him isolated. Chaitanya was a charming boy and he would never even try to get physically intimate with his mother. I know this because I've taken care of him several times. She is fabricating the case."
Speaking in a similar vein, Puja Patil, a neighbor said, "Many a time, we used to hear loud noises of Chaitanya being beaten, but we could not help him. If we would try and intervene, she would hurl abuses at us and threaten us saying she would lodge a molestation case against my husband. The boy was innocent and would occasionally speak to me through the window when Rakhi locked him in."
She adds, "Chaitanya went without a meal on several nights. A cake and biscuits would be his meal on several occasions. There have been times when she got home, dressed up and left, with Chaitanya locked inside. I think he missed his father a lot and wished to speak to him. I treated him like my own son and, because I cared for him, Rakhi would always pick fights with me."
I lived for him: Father
Tarun said, "Chaitanya was my only hope and I lived for him. I had placed my faith in the judiciary and hoped that I would get my son back one day. Last year, Rakhi had demanded Chaitanya's custody saying she needed him for a few rituals because her father had passed away. She never returned Chaitanya to me. I cannot believe this is the same person I married fifteen years ago. And, because of a delay in justice, I lost my son."