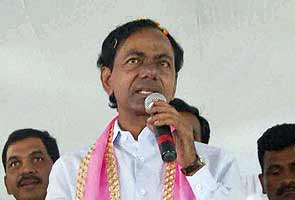 New Delhi:
It would make for a great trivia question. What was KCR before he became a politician and the face of the Telangana movement?
The answer, unlikely as it seems, is: An immigration consultant. Because he used to send people to the gulf, he earned the sobriquet "Dubai Sekhar". Yes, K Chandrasekhar Rao was not a political prodigy, though he did dabble in student politics as a Congressman. But for all that, Rao has been a study in political survival.
For many, Kalva Kuntla Chandrasekhar Rao, better known as KCR, entered the national consciousness as a slightly beleaguered-looking Cabinet Minister without Portfolio in the brand new UPA government of 2004. Early enough it was clear that his alliance with the Congress was not a smooth one.
With not much to his political name but the title of a Cabinet minister, Rao dutifully sought to remind anyone who would listen that he was here to champion the Telangana cause. The Congress sat up to listen more when his utterances - including a statement about Congress president Sonia Gandhi - created controversy. Rao was a miffed man and flailing.
He eventually got his assignment - that of Minister for Labour and Employment - and served two uncomfortable years in the position, before resigning in 2006 and withdrawing from the government. He won the by-election easily and then continued to send regular reminders to the Central government that its Common Minimum Programme promised a separate Telangana state. To little avail.
By 2008, KCR needed to shake things up a bit with the 2009 Lok Sabha elections looming. So all TRS MLAs and MPs quit their positions in April 2008 in support of their Telangana demand, necessitating a large by-election. It was an erroneous move. KCR won back only 7 of 16 Assembly seats that the party had given up and only two of the four Lok Sabha seats it had surrendered. He offered to quit, the party said no, and the chief rolled it into yet another mammoth error.
For in 2009, once-friend-turned-foe Chandrababu Naidu wooed KCR with an unlikely promise to work together on the Telangana agenda. KCR's rebellion of 2001 against Naidu was a none-too-distant memory, but Naidu was now foe Congress' foe and KCR agreed to fight the Lok Sabha elections in alliance with him that year. More ignominy - they were wiped out by the Congress.
Reeling from that defeat and staring at complete political irrelevance, KCR saw but the slightest of opportunities when a leadership crisis added to the cloak of gloom that descended on Andhra Pradesh with the death in a helicopter crash of popular Congress Chief Minister YSR Reddy in September 2009.
In the months of political vacuum that followed, with the Congress scrambling to set its own house in order, KCR made a last-ditch effort to claw back. He announced and then launched a hunger strike to demand a separate Telangana state in end November 2009. Eleven days of his hunger strike saw violent, burning protests across the sensitive region, that includes Andhra Pradesh capital Hyderabad.
Leaders from other political parties realized that KCR was fast becoming the sole voice of the demand for Telangana and were forced to join in the demand to protect their own political relevance in the region. The Centre blinked on December 9, 2009, announcing that the process to form a separate Telangana state would be initiated.
A year and a half after then, KCR, once again lost in oblivion, raised his voice in demand last week warning Prime Minister Manmohan Singh that, "We will not tolerate 'hera-pheri'". Since then, many MPs and MLAs of the region from across parties have resigned to demand a separate Telangana state. This includes MPs and MLAs of the Congress, that rules both at the Centre and the State.
But wait, hark back to 2001, when KCR's Telangana story begins. That was the time when he first made national headlines. With his rebellion. And the political resurrection of an old, sensitive - Telangana.
A senior leader of the Telugu Desam Party, KCR broke ranks to float the Telangana Rashtriya Samiti in May of that year. He did that with what he called the "Simha Garjana" (Roar of the Lion). And amassed enough visible support to merit several interviews with national publications where he lashed out at Naidu for not being committed to the Telangana cause and for meting out poor treatment to the region as Chief Minister. Rao was also clearly miffed then. In his second term as CM, Naidu had offered him only the position of Deputy Speaker in the Andhra Pradesh Assembly. Not that of a minister.
That was 16 years after he entered electoral politics with a loss first and then never to lose an election again. He joined NT Rama Rao's new Telugu Desam Party in 1984. He was one of the early members of the TDP, senior in fact to Naidu in the party. A fact that he never fails to point out.
KCR was born on February 17, 1954, in Chintamadaka in Andhra Pradesh's Medak district. He studied at Osmania University - a hotbed of the Telangana agitation of 2009 that KCR's hunger-strike sparked. KCR obtained an MA in Telugu Literature and lists writing as a hobby.