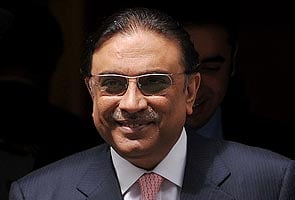 New Delhi:
When wife Benazir Bhutto was the Prime Minister of Pakistan, first spouse Asif Ali Zardari was unfortunately nicknamed "Mr 10 percent" - his detractors accused him of being corrupt and demanding kickbacks on government deals.
In 1996, Pakistani courts saw merit in those accusations and Mr Zardari was arrested on corruption charges. He spent eight years in jail and then joined Benazir in self-imposed exile. The Pakistan President's post would've seemed a very distant dream from there. But then that is politics. And quirk of fate.
Mr Zardari, 57, is the President of Pakistan from September 2008. When wife Benazir, back from exile and campaigning for another stint in power, was gruesomely assassinated in December 2007, Mr Zardari was pitchforked into the centre of things as is wont in the sub-continent's dynastic politics.
Mr Zardari took over the reins of the suddenly leaderless Pakistan's People Party, but cannily ensured that he named his 19-year-old son Bilawal Bhutto Zardari as chairman of the party. He took the post of co chairman. He also added "Bhutto" to Bilawal's name.
Riding on a wave of sympathy in the elections that followed in 2008, the PPP emerged as the single largest party, but fell short of the numbers needed to form government. It entered into an uncomfortable alliance with Nawaz Sharif's PML-N with the intention of ousting General Pervez Musharraf, in what was the first election after the General took over as the country's President in a bloodless coup. The marriage between the PPP and PML -N was short-lived. It ended within six months with Mr Sharif accusing Mr Zardari of failing to deliver on several promises.
After weeks of speculation, Mr Zardari announced that he was not interested in being the Prime Minister and nominated Yousuf Raza Gilani instead. But when General Musharraf had to step down following his rout in the 2008 Presidential polls, Mr Zardari was the PPP's choice for President, a post he won with a comfortable majority.
The marriage that served Mr Zardari well was the one to Benazir Bhutto on 18 December 1987. It was an arranged match between Karachi-born Asif Ali, the son of Hakim Ali Zardari, the head of a Sindhi tribe from Nawabshah, and Benazir, the polished daughter of Zulfikar Ali Bhutto. The wedding at the Clifton Palace garden in Karachi was small and private, but on the streets after their wedding there were thousands of supporters dancing, singing.
In 1988, Benazir became PM, when their son Bilawal was only three months old. Mr Zardari became a member of the National Assembly of Pakistan. He served as investment and environment minister in his wife's government; that is the time when the allegations of corruption began.
Personally, Mr Zardari is said to be fond of horses, is a vegetarian and his loyalty to family is much talked about. The Bhutto family is said to view Mr Zardari as doing a holding act till Bilawal, now 23, is ready to inherit his political legacy.