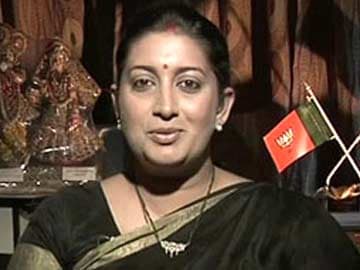 New Delhi:
Smriti Irani, once best known for being a trend-setter in the early days of what is called the
saas-bahu
genre of television soap opera, is the new Human Resources Development minister in
Narendra Modi
's cabinet.
The screen image of the righteous daughter-in-law and the popularity it brought has stood her in good stead in her second career as a young BJP politician who speaks her mind.
Ms Irani is also known now to be a key member of the A team of Narendra Modi, the BJP's candidate for Prime Minister. At 38, she was already a Rajya Sabha member when she was picked by her party to take on Congress vice-president Rahul Gandhi in the Gandhi family bastion of Amethi in Uttar Pradesh. ('
Rahul Gandhi a challenge for Amethi, not me: Smriti Irani
)
Ms Irani was beaten by Mr Gandhi by nearly 1.7 lakh votes.
This was not the first time when the actor-turned politician agreed to enter a tough contest. In 2004, when the BJP struggled to find a candidate against the Congress' Kapil Sibal in Chandni Chowk, a Muslim-dominated constituency in Delhi, Ms Irani offered to enter the fray. She contested and lost by a huge margin of about 80,000 votes.
But she brushed aside the setback and worked hard to earn a place among the front-ranking woman leaders in the BJP. In 2010, she was appointed president of Mahila Morcha, the BJP's women's wing. A little over a year later, she was elected to the Rajya Sabha from Mr Modi's Gujarat.
When Rajnath Singh became the BJP's president for the second time in January last year, he appointed Smriti as a vice president. In July, she was drafted as a member of the sub-committee formed to push Mr Modi's campaign through the traditional medium such as a plays and folk songs.
Once a model and even a Miss India contestant, Smriti got national recognition as the combative Tulsi Virani in the popular Ekta Kapoor-directed soap "Kyunki saas bhi kabhi bahu Thhi". She later played Sita, wife of Rama, in another TV series.
Ms Irani was inducted into the BJP by the late Pramod Mahajan in 2003. After his sudden death in May, 2006, she was mentored by former BJP president Nitin Gadkari.
A vociferous Modi supporter, Ms Irani was not always a fan. In 2004, she embarrassed her party when she demanded the resignation of Mr Modi as Gujarat chief minister over the 2002 riots in his state. Hours later, she issued a statement withdrawing her comments "unconditionally."
Ms Irani was born and brought up in Delhi. She is married to a Parsi businessman, Zubin Irani, and has three children.