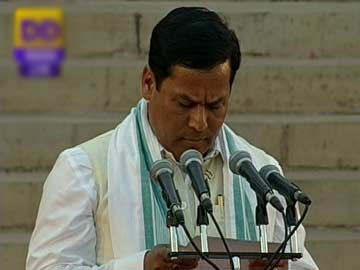 51-year-old Sarbananda Sonowal is one of the most promising leaders from Assam.
He is the new Minister of State for Skill Development, Entrepreneurship and Youth Affairs and Sports (Independent Charge).
Elected to Lok Sabha after defeating Union Minister Ranee Narah in Lakhimpur constituency, he is credited with leading the BJP in the state as president to help it bag seven seats out of 14, raising the tally from four.
"My priority is Assam's all round development besides zero tolerance for the illegal migrants and complete seal of Indo-Bangla border," Mr Sonowal told PTI immediately after taking oath.
Mr Sonowal, who had entered Lok Sabha for the first time in 2004 after defeating former Union Minister Paban Singh Ghatowar in Dibrugarh, entered politics by joining Asom Gana Parishad (AGP) in 2001 and soon he was elected as MLA.
He is considered to be one the most popular leaders in Assam having long career in public life since his days as a student leader.
After differences cropped up with the AGP leadership, the former president of powerful All Assam Students Union, had joined the BJP in 2011. He was appointed as the President of the state unit of BJP in 2012.
Mr Sonowal is also credited with successfully challenging the controversial Illegal Migrants (Determination by Tribunals) Act, which was stuck down by Supreme Court terming the legislation as "the biggest hurdle and is the main impediment or barrier in the identification and deportation of illegal migrants.''