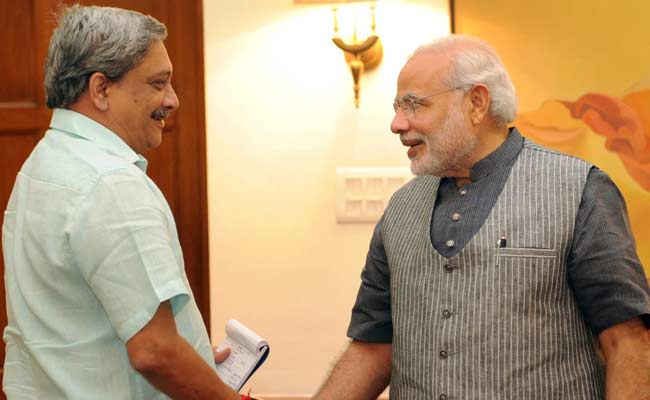 New Delhi:
Goa Chief Minister Manohar Parrikar, an IIT Bombay graduate, is likely to be India's new Defence Minister. He will join Prime Minister Narendra Modi's cabinet in an oath ceremony on Sunday, sources have told NDTV.
Mr Parrikar said today that his party, the BJP, has asked him to accept any responsibility offered by the Prime Minister.
The 58-year-old is seen as a fit candidate for the job with his tech background, his impeccable record and strong decision-making skills.
Mr Parrikar is seen as one of BJP's most successful chief ministers, having established the party in a state that has a substantial Christian vote. He also enjoys the support of the BJP's ideological mentor Rashtriya Swayamsevak Sangh.
Currently, Arun Jaitley holds both the Finance and Defence ministries, but sources say the prime minister wants his full focus on finance ahead of his government's first Budget next year.
At a time India is veering towards indigenous weapons and is facing challenges at its borders with Pakistan and China, PM Modi reportedly wants a strong Defence Minister.
Mr Parrikar, who had led the BJP to victory in Goa in 2012, had been openly reluctant about shifting to the Centre till recently.
"I am not comfortable, I have too much affection towards the state. But rationality tells me if nation requires your services, I should take it. Whenever Goa wants my services, I will be there," he was quoted by the Press Trust of India as saying.
His decisions, party leaders say, have kept the BJP free of controversy in Goa. He has also managed to keep radical outfits like the Sri Ram Sene at bay.
Mr Parrikar, who graduated in metallurgical engineering from IIT-Bombay in 1978, is a batch-mate of technocrat Nandan Nilekani. A father of two sons, he grew up in the Goan village of Parra. His wife Medha died in 2000 of cancer.
Those in the party who know him closely say he is counted among the dynamic, energetic leaders of the party who represent PM Modi's development mission.