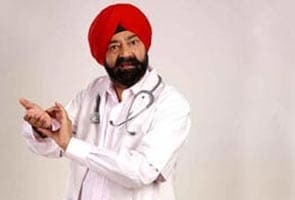 New Delhi:
Humourist Jaspal Bhatti, who found India's funny bone in the golden age of Doordarshan, died in a car accident near Jalandhar last night. He was 57.
Jaspal Bhatti was born on March 3, 1955 in Amritsar. He graduated as an electrical engineer from Punjab Engineering College in Chandigarh and worked as a cartoonist for The Tribune before striking out as a TV comedian. In college, Mr Bhatti was involved in street plays, mostly satires about corruption.
Jaspal Bhatti's sitcom Flop Show first aired on Doordarshan in 1989. Mr Bhatti wrote, directed and starred in all 10 episodes with his wife Savita, who also played his screen wife. Flop Show, a tongue-in-cheek comment on social and cultural issues among middle class India, became hugely popular and is still re-run on Doordarshan's various channels.
Jaspal Bhatti also directed and starred in other sitcoms for Doordarshan including Ulta Pulta and Nonsense Private Limited. The first film he directed was the Punjabi language Mahaul Theek Hai in 1999. Mr Bhatti appeared in Bollywood films like Fanaa, starring Aamir Khan and Kajol, playing a guard called Jolly Good Singh. He also appeared in other films like
Hamare Dil Aap Ke Paas Hai
and
Koi Mere Dil Se Pooche
.
Mr Bhatti also sporadically appeared on TV, first as a judge on
Comedy Ka King Kaun
and then as a contestant, with his wife, on dance reality show
Nach Baliye
.
Mr Bhatti ran an academy of humour and studio in Chandigarh called Joke Factory.
Jaspal Bhatti married his wife Savita on March 24, 1985. They have a son, Jasraj, and a daughter, Raabiya. Jasraj Bhatti was injured in the car crash that killed his father, as was actress Surilee Gautam. They were travelling around Punjab to promote their new Punjabi film
Power Cut
.