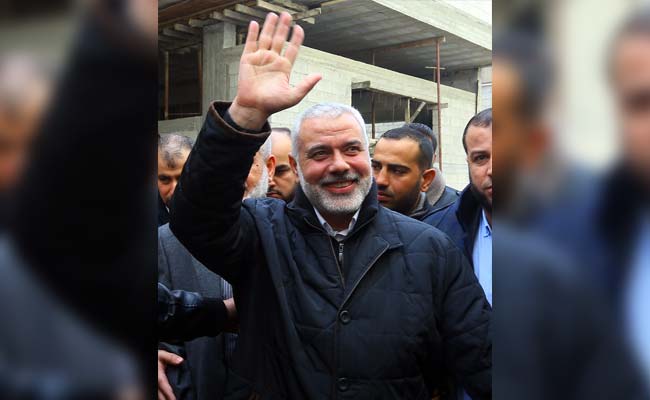 Gaza City, Palestinian:
Ismail Haniya, named Saturday as head of Hamas, is a charismatic leader from the Gaza streets who represents the more pragmatic wing of the Islamist movement.
The 54-year-old with a salt-and-pepper beard takes charge as it seeks to ease its international isolation while not marginalising hardliners within the movement.
Labelled a terrorist group by the United States and the European Union, Hamas on Monday revised its charter to reflect a slightly more moderate stance, without however recognising Israel.
Haniya replaces Khaled Meshaal, who lives in Doha in exile and has completed the maximum two terms in office.
Unlike Meshaal, Haniya will remain in the Gaza Strip, the small Palestinian enclave run by Hamas, hit by three wars with Israel since 2008 and under an Israeli blockade for 10 years.
His modest home in the narrow alleys of Gaza City's Shati refugee camp next to the Mediterranean Sea is under constant guard.
Also known as Abu Abed, he was born in the same camp in 1963 to parents who fled when Israel was created in 1948.
They had previously lived in Ashkelon (or Asqalan in Arabic), which is today part of Israel and just next to the border with the Gaza Strip.
Haniya, a father of 13, was educated at a UN-run refugee school, later earning an education degree from the Islamic University and becoming a university administrator.
Hamas has frequently highlighted his modest background as a counterpoint to officials within president Mahmud Abbas's Palestinian Authority who have been accused of being corrupt and too easily compliant with Israel or the United States.
Haniya was jailed several times by Israel during the first intifada, or uprising, which erupted in 1987, and was deported to southern Lebanon in December 1992 along with hundreds of Hamas and Islamic Jihad militants.
Shock election win
He first rose to prominence as bureau chief under Hamas's spiritual father Sheikh Ahmed Yassin, the quadriplegic assassinated by Israel in 2004.
He escaped assassination in September 2003 when an Israeli aircraft bombed a house where he and Yassin were meeting, yet Haniya was instrumental in securing a halt to Hamas attacks inside Israel since early 2005.
The following year, he led Hamas to a shock legislative election victory over Abbas's Fatah and became prime minister.
The international community however refused to deal with any government in which Hamas participated until it renounced violence and recognised Israel and past peace agreements.
The resulting deadlock led to mounting friction between Hamas and Fatah which culminated in Hamas's seizure of Gaza.
In July 2006, Israel bombed Haniya's office during a massive but unsuccessful operation to free a soldier held by gunmen including Hamas militants.
Always dressed impeccably in Western-style suits and a sharp orator, Haniya has exemplified Hamas's internal struggle between the traditional and the modern, between resistance against Israeli occupation and mainstream politics.
An eloquent advocate of the right to resistance, his strongly held beliefs that a future Palestinian state should be governed by laws "inspired by sharia" Islamic law have provoked concern in the West.
(This story has not been edited by NDTV staff and is auto-generated from a syndicated feed.)