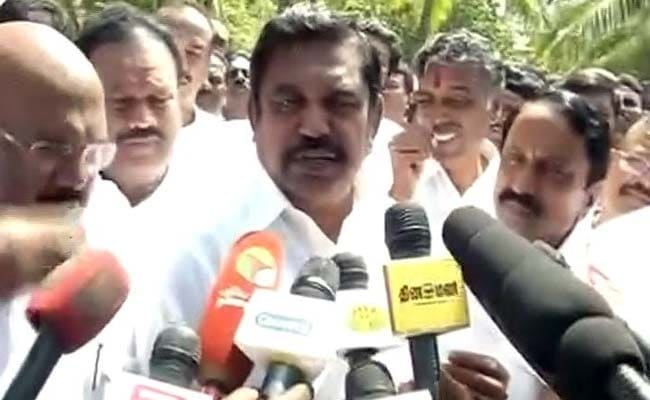 Chennai:
From an ordinary party member to the Leader of AIADMK legislature party, Edappadi K Palaniswami has come a long way. Amid the bitter turf war between AIADMK general secretary VK Sasikala and acting chief minister O Panneerselvam, the 63-year-old loyalist of late J Jayalalithaa was elected Leader of AIADMK legislature party to facilitate his elevation as Tamil Nadu Chief Minister.
"He was an unwavering loyalist of late Jayalalithaa, and chose to side with V K Sasikala after O Panneerselvam revolted against the interim general secretary," a close aide of Palaniswami told PTI.
Born into an agriculture family, Palaniswami began his political career in AIADMK in 1974 as an ordinary party member.
A native of Nedungulam village in Salem district, he later became a local level party secretary for Siluvampalayam in Edappadi Panchayat Union in Salem.
A Science graduate, he swore allegiance to Jayalalithaa when AIADMK split into two factions, one led by her and the other by party founder M G Ramachandran's wife Janaki, after MGR's death in 1987.
In 1985, even before the demise of MGR, Palaniswami's followers say he had put up a separate party flag mast "honouring" Puratchi Thalaivi Amma across Edappadi region.
In 1990, when Jayalalithaa unified the AIADMK, he was elevated as Salem North District joint secretary.
In 1989, 1991, 2011 and 2016 Assembly polls, he won from Edappadi constituency. When AIADMK was routed in the 1996 Assembly polls, he too lost from Edapadi.
Similarly, he was defeated in the 2001, 2006 Assembly polls and the 1999 and 2004 parliamentary polls. In 1998, he went to Lok Sabha by winning the Tiruchengode Lok Sabha seat. A grass-roots level leader, Palaniswami's growth in the party in a career spanning over 40 years has been steady.
His clout in AIADMK saw a dramatic rise when it won 10 of 11 Assembly segments in Salem district in the 2016 polls. Acknowledging his contributions, he was given the key portfolio of Public Works, besides Highways and Minor Ports, which he had already been holding.
Since 2011, he is Minister for Highways and Minor Ports and he was among the senior ministers who had proximity to Jayalalithaa.
He has held various party posts including propaganda secretary, organisation secretary, and disciplinary committee member.
Currently, he is the party headquarters secretary and Salem Rural District party secretary.