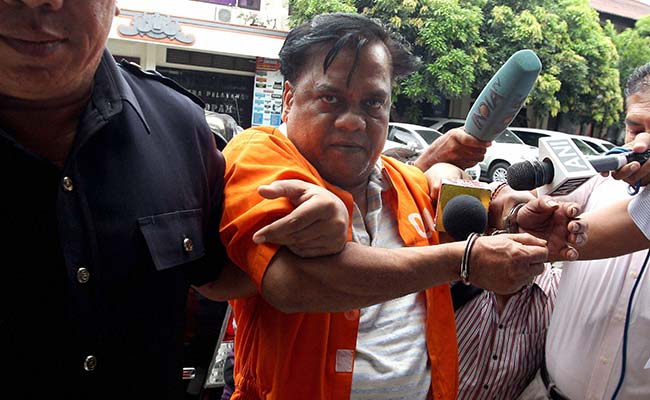 The gangster known as Chhota Rajan rose from a small-time seller of black market cinema tickets to one of India's most wanted men, accused in a string of gruesome crimes.
Rajan, whose real name is Rajendra Sadashiv Nikalje, arrived in Delhi early on Friday to face a host of charges after being arrested in Indonesia following two decades on the run.
The 55-year-old Rajan is suspected of involvement in up to 20 murders and was once the alleged right-hand man of crime boss Dawood Ibrahim before an acrimonious split.
"He managed to go from such a low rank, black marketing cinema tickets, to becoming a rival to Dawood Ibrahim," S. Hussain Zaidi, author of more than half a dozen books on Mumbai's underworld, told news agency AFP.
Rajan was a loyal lieutenant in Dawood Ibrahim's notorious organised crime group known as "D-Company", which emerged as the leading underworld outfit that had a grip on India's financial and entertainment capital in the 1980s and 1990s.
But Rajan parted ways with Ibrahim after the bomb blasts in in 1993 that killed 257 people and wounded around 700 more in Mumbai.
Dawood Ibrahim is accused masterminding the atrocity in retaliation for religious riots that targeted Muslims after the 16th-century Babri Masjid was demolished in Ayodhya in 1992 by right-wing extremists.
Rajan, according to police and other sources, portrayed himself as a "Hindu don" and began targeting those he considered to be "anti-India", including Dawood Ibrahim's men.
"They (the authorities) took him so seriously only when he challenged Dawood," said Mr Zaidi, the author of "Dongri to Dubai: Six Decades of the Mumbai Mafia".
"If he had remained as a Dawood satellite he wouldn't have been as big because there were so many other people in the gang. He parted with Dawood and that added to his importance," Mr Zaidi said.
Their rivalry almost cost Rajan his life in 2000 when gunmen reportedly posing as pizza delivery men burst into a Bangkok apartment and killed his associate, in a shooting believed to have been ordered by Dawood Ibrahim.
Rajan apparently escaped via the roof and then made another dramatic slip from the Bangkok hospital where he was later treated for his injuries, fearing the threat of extradition to India.
Rajan was declared a wanted man by Interpol in 1995 and had been evading police in several countries for years until his arrest on the Indonesian resort island of Bali.
Indonesian authorities detained him last weekend after being tipped off by Australian Federal Police. Rajan had been living in Australia under another identity, according to the police, who have been in discussions with Indian authorities.
Interpol's website said Rajan was wanted for multiple charges including murder and possession and use of illegal firearms.
Mumbai police want to question him over a string of offences, including murder, extortion and drug trafficking.
In 2011, the Mumbai accused Rajan of ordering the murder of a prominent Mumbai crime reporter, who was gunned down in a drive-by shooting in June that year.
Jyotirmoy Dey was the investigations editor at the Mid-day daily tabloid and had written extensively on gangland activities.
Before his extradition to India, Rajan told reporters in Bali that "all cases against me are false".