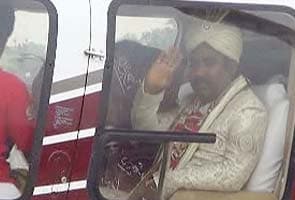 Patna:
The Congress' austerity drive notwithstanding, one party legislator in Bihar brought home his bride in a helicopter this week, cheered by about 50,000 wedding guests, including Chief Minister Nitish Kumar.
Supporters of the ecstatic 32-year-old MLA, Tausif Alam, fired shots in the air, which is illegal. The Kishanganj police have ordered an inquiry.
"Marriage is a time when everyone is happy. And I'm very happy," said Mr Alam, explaining his Rs 14.7 lakh chopper ride and other extravagances.
Congress president Sonia Gandhi has repeatedly requested young partymen to refrain from a flashy show of wealth.
The three-time Congress MLA from Bahadurganj married the daughter of village headman on Saturday. The helicopter was rented from Delhi.
Chief Minister Nitish Kumar, who made a special trip to Kishanganj to participate in the festivities, said, "He is very close to me. So I've to come here to attend his marriage."
He suggested that no political inference be drawn from his presence at a Congressman's celebrations.
There has been speculation recently that in the distinct chill between Mr Kumar's party the Janata Dal (United) and longstanding partner, the BJP, the Congress sees an opportunity to acquire a new ally.