After Rahul Gandhi's ambush-by-hug, Prime Minister Narendra Modi confronts more frenemy-type action: Ram Vilas Paswan, whose instinct for political shape-shifting is legion, has, along with his son, Chirag, has abandoned his thus-far model ally behaviour. The PM is away to South Africa; Paswan is demanding punishment for AK Goyal, who he accuses of diluting the SC&ST (Scheduled Castes and Scheduled Tribes) Act when he was serving as a judge of the Supreme Court. Goyal must be removed by August 9 as chief of the country's top green court, says Paswan. He also wants the central government, in which he is a minister, to strengthen the provisions of the atrocities act failing which Chirag and he claim they will join the Dalit groups protesting against PM Modi's government.
Paswan is a Dalit leader from Bihar and leads the LJP. He is hailed admiringly across the political spectrum as the "ultimate mausam vagyanik" (weather scientist) because he always picks the winning side. He was a minister in the UPA before switching to the NDA ahead of the 2014 election.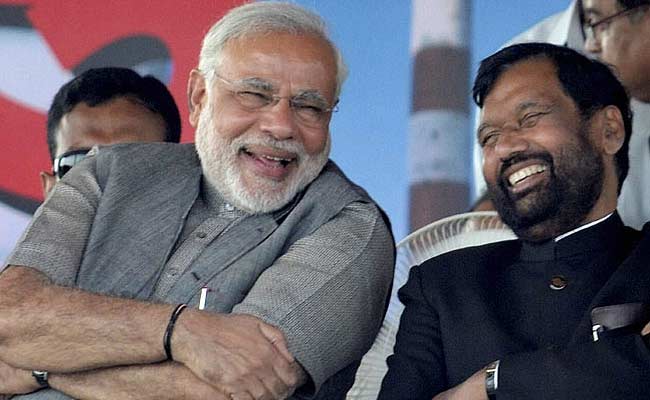 At a press conference jointly addressed today, the Paswans made a dramatic reveal, declaring that "our support to the BJP is issue-based".
This is code for the opposition to approach Paswan and offer juicy sweeteners, if not feelers.
Speaking to me, the ever-smiling Paswan shared, "I still feel Modi-ji will act. He is not anti-Dalit. Together, we have done a lot for Dalits". But the very fact that Paswan is raising the issue and demanding course correction from the Modi government is a hugely politically-loaded message as the BJP and Amit Shah are battling persistent allegations of the party being anti-reservations and anti-Dalit. It does not help that the mother-ship of the BJP, the RSS, and its chief Mohan Bhagwat, periodically send mixed public signals on reservations - think back to Bhagwat's speech during the critical Bihar election in 2015 which the BJP lost.
After Dalit men were flogged for skinning a dead cow in Una in Gujarat in July 2016, there have been clashes between Dalits and upper castes in Saharanpur in Uttar Pradesh and a large movement by the Marathas demanding reservation which has seriously tested Chief Minister Devendra Fadnavis. It does not help the BJP's cause that Modi and Shah have appointed RSS upper class pracharaks who had little identity among cadre as chief ministers in Maharashtra (Fadnavis) and Haryana (M L Khattar).
The "Thakur Raj" of Yogi Adityanath in Uttar Pradesh where the police have been let loose on lower castes and Muslims through the "encounter raj" has also seen backward caste supporters of the BJP turning to the Samajwadi Party. Says a senior BJP leader who is a rival of Yogi, "In recent meeting, Shah-ji told him 'You seem to have forgotten you are a Yogi (monk) who has no caste but have turned into a Thakur leader. Please let Yogi rule'".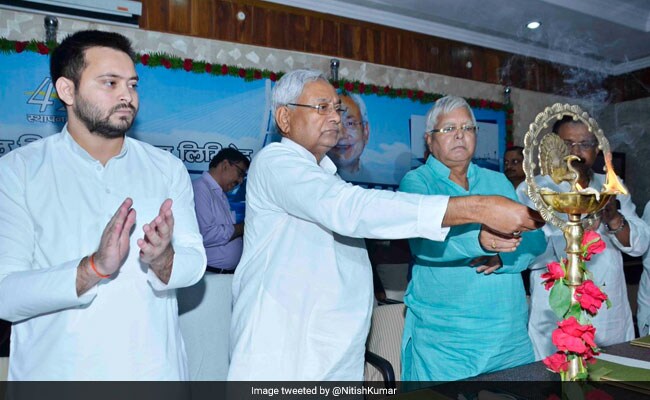 The opposition is assiduously fanning the perception that the BJP is anti-Dalit and Paswan has kept his communication lines open. The sharp operator that he is, he tried to form a mini gathbandhan (alliance) with Nitish Kumar within the NDA so that they could together bargain for a better seat share in Bihar. Paswan is also reportedly already talking to Tejashwi Yadav in Bihar about what they might accomplish together. A switcheroo is possible. Yadav Junior is very happy to welcome "Chacha Paswan" unlike "Nitish chacha", who he says he cannot forgive for walking out on his father and ending their political marriage over a year ago.
Sonia Gandhi, who is Paswan's neighbour in Delhi, memorably walked across to his house and got him to leave the NDA and join the UPA in 2004 is still on very warm and neighbourly terms with him.
Paswan smiles as always while not denying the possibility of another amble. "No government can be made without Ram Vilas Paswan," he professes.
If his brazen daring isn't enough, Rahul Gandhi's public birthday wishes to Uddhav Thackeray, Shiv Sena chief, have also caused some consternation in the BJP: Gandhi's new love-guru-hug-guru avatar is swinging into an outreach to the NDA constituents. If the opposition manages to make Paswan break up with Modi and Shah, it will alter the contest in Bihar, boost opposition unity at a crucial time and seal the impression that the BJP is anti-Dalit.
Perhaps Modi will have to take a leaf from Gandhi's book and hug both Paswan and Thackeray close. In the meantime, it's tough love for the BJP from its allies.
(Swati Chaturvedi is an author and a journalist who has worked with The Indian Express, The Statesman and The Hindustan Times.)
Disclaimer: The opinions expressed within this article are the personal opinions of the author. The facts and opinions appearing in the article do not reflect the views of NDTV and NDTV does not assume any responsibility or liability for the same.