Dr. APJ Abdul Kalam. The world knows him as India's Missile Man and the People's President. To me, he was the personification of humility, generosity and optimism. Kalam
garu
, as I always called him, was one of the finest human beings I have met. He was a dear friend and one of the few people I have always looked up to in my life.
Kalam
garu's
ingenuous spontaneity always inspired me. Having observed him closely, I'm one among the millions across the globe who always enjoyed his interactive speeches. One such instance was when Kalam
garu
and I shared the dais last year while launching the Primary Sector Mission (focusing on Agriculture) in Anantapur district. While addressing a gathering of farmers, he called them "farmer friends" and spoke fluently in Telugu. He told them that they are a mighty force and are partners in nation's development.
I remember vividly how he made farmers recite a poem titled
"I will fly"
that he had written. "I will fly... I'm born with potential, I'm born with goodness and trust, I'm born with ideas and dreams, I'm born with confidence, I'm born with wings...I'm not meant for crawling, I have wings...I will fly...I will fly...I will fly," he recited, with love for farmers. He also spoke extensively about the integration of technology in agriculture.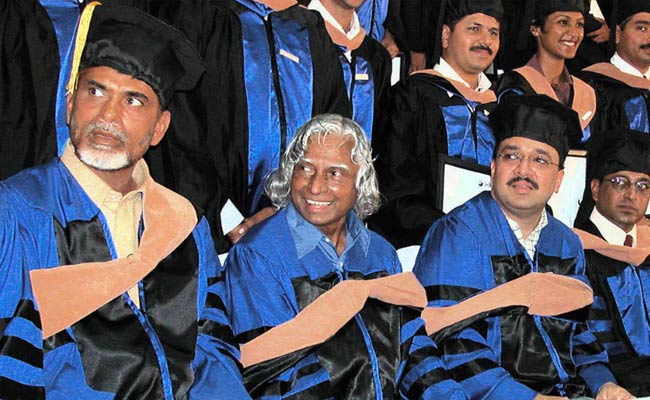 From Rameswaram to Raisina Hill, his journey is an outstanding example of what a human being can achieve through hard work, perseverance and determination.
My first meeting with Kalam
garu
was during my first term as the Chief Minister of united AP when we had met over "Vision 2020". That was when he had given me a task of preparing a draft for "Vision 2020" while he was working on it.
A memory of Kalam
garu's
humbleness that is etched in my mind is when he defied protocol as the President of India and visited me at my Jubilee Hills residence on October 3rd, 2003, soon after I survived the Alipiri Blast. He enquired about my health and had spoken about the essential qualities of leadership. I'm glad to have had the opportunity of collectively proposing his name for the President during Vajpayee-
ji's
Prime Ministership.
From nurturing India's guided Missile program to keeping the doors of Rashtrapati Bhawan open to people, he went to great lengths to make himself accessible and approachable to the people of this country.
One cannot forget instances of Kalam
garu's
humility where he had invited a cobbler as one of the Presidential Guests to Raj Bhavan in Kerala, nor can one overlook the fact that he had posted a question on Yahoo Answers asking the public "What do we do to free the planet from terrorism?"
His undying love for children and the zeal to encourage, ignite minds of millions was laudable. He was an epitome of knowledge, intellect and love. He has always believed that the best teachers are facilitators of innovation, of new ideas, creators of lifelong habit of innovative thinking.
In some of our conversations, he told me that he enjoys being a teacher. "It gives me immense satisfaction and joy," he said, adding, "which other profession enjoys such recognition and is as crucial to the development of the human race as a whole?" Such was his thought-process.
He had no space for pettiness, disharmony, jealousy, hatred or enmity in his life and believed that education transforms a human being into a wholesome unit, a noble soul and an asset to the universe. Real education enhances the dignity of a human being and increases his or her self-respect.
He taught us how to dream big, without the fear of winning or losing. He continues to live in our hearts. Above all, he showed the world he was a simple man with big dreams.
Let us strive to make this world a better place to live in and aim for success of an India he dreamt of.
In Kalam
garu's
words: "The country doesn't deserve anything less than success from us. Let us aim for success."
N. Chandrababu Naidu is the Chief Minister of the new state of Andhra Pradesh and the president of the ruling Telugu Desam Party (TDP).
Disclaimer: The opinions expressed within this article are the personal opinions of the author. The facts and opinions appearing in the article do not reflect the views of NDTV and NDTV does not assume any responsibility or liability for the same.