Chandrababu Naidu is a tricky customer, which I am sure the BJP has by now realized. He is a clever and sophisticated Machiavellian who overthrew his father-in-law and TDP supremo N T Rama Rao in the mid-1990s. NTR was at the time considered a giant in Indian politics, one who swept the Andhra polls within months of forming a political party in 1983. On the other hand, Naidu was not well-known. He was only recognised as the son-in-law of a great Telugu leader who was once in the Congress. But one fine morning, the whole world was stunned with the news that Naidu had successfully engineered a coupe in the party, with the help of NTR's other relatives. Had fallen in love with Laxmi Parvati, and it was believed or assumed that NTR wanted to pass on his political legacy to her. Naidu performed one of the most clean political surgeries till that date, and at the age of 44, emerged over night as the wonder boy of Indian politics. Within the next year, he sidelined all other family members and co-conspirators to appropriate the large NTR legacy.
By 1996, he was among the serious contenders for Prime Minister. Once V P Singh and Jyoti Basu refused to be PM, he was offered the office which he politely declined. He was then made the convenor of the United Front, the ruling coalition of 23 parties. He wielded enormous power. But the rise of the Congress' YSR in Andhra eclipsed him and the man who created Brand Hyderabad was sidelined till he won the assembly election in 2014 and returned as Chief Minister, though of a divided Andhra Pradesh.
Signs of his renewed strength have been on display this weekend. He successfully forced Narendra Modi and Amit Shah to launch an outreach to ensure he remains in alliance with the BJP. His timing was perfect. The BJP has just faced a humiliating loss in three by-elections in Rajasthan, a state where it won every seat in 2014. Note that Naidu did not rush in after December's Gujarat results which were considered a defeat in victory for the BJP. He struck when he was sure that BJP's strongmen were vulnerable.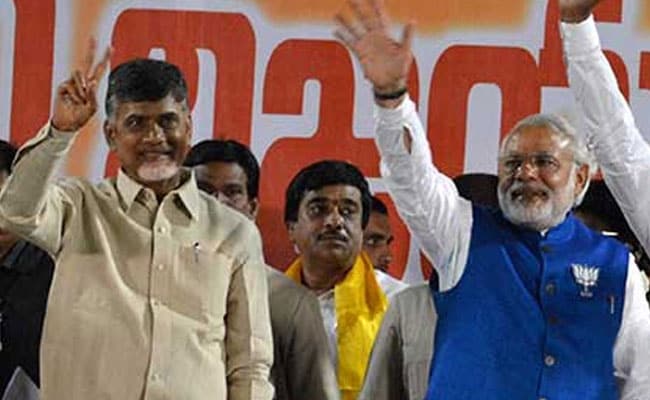 Naidu planted stories in the media that he was unhappy with the way Andhra's claim for extra funds were ignored in the annual budget. Then he publicly called Shiv Sena boss Uddhav Thackeray, who has declared he will not contest the next state or general election with the BJP. The phone call showed Naidu too was fed up with the BJP. It is true that the local BJP unit has been troubling Naidu with severe criticism of his government for some time; it has also indicated a warming up to Naidu's arch rival, Jaganmohan Reddy, who is YSR's son.
Naidu waited to revolt because he knows Modi is too stubborn and too powerful to give in to his tantrums. Once it was clear from first Gujarat and then Rajasthan that Modi's popularity may have dipped, he made his move - but he let the Sena go first. Now Modi and his party are cornered. They can't afford to lose Naidu, a trusted ally. It would send the wrong message at a time of perceived vulnerability.
For Modi, 2017 started with big bang victories in UP and Uttarakhand; the BJP was able to manipulate its way into forming the governments in Goa and Mizoram though it was not the single-largest part in either state. These gains led to the conclusion that the 2019 general election would be a cake walk for Modi and and opposition should plan for 2024. But since July, there's been a thinning of Modi's sheen. Social media and WhatsApp saw new criticism of him over incidents like the riots in Haryana after the sentencing of spiritual guru Gurmeet Ram Rahim Singh, the messy implementation of the GST, increasing rural distress, faltering economic growth, joblessness and unabated rowdiness of fringe Hindutva elements. Gujarat proved that he was no longer a formidable force. And if he could be made to struggle in his own den, then he could be tamed too.
The Shiv Sena was the first one to say it wants out - though it is not exiting the Maharashtra government. Its open declaration of its intent to contest elections alone was a bold move. It signalled to other BJP allies that it's worth reconsidering the current arrangement. The Sena, however, is not a strong force and its rant was seen as overstating its hand. But the TDP is a serious ally. And if two allies decide to leave Modi and the BJP, it will be a first-rate public relation disaster at a time when the general election is approaching quickly.
For Modi to get a second term, he must successfully campaign in three major assembly elections later this year. Let's not forget it was a massive win by the BJP in Madhya Pradesh, Chhattisgarh and Rajasthan in 2013 which set the tone for the 2014 sweep. It was a signal to the world that the Congress was losing public support and that the BJP was riding high in public perception. Modi's personal dynamism, organisational skill and hands-on management of the campaign ensured his victory. Now, if the perception is that allies are leaving him, Modi's campaign will be dented.
Naidu has agreed to not back out of the alliance just yet, but if the TDP makes it clear that it's not averse to walking, a few others can also entertain the idea of exploring the possibility of an alternative. That could make Rahul Gandhi an exciting proposition. Modi is too shrewd to ignore this. He knows that after the United Front dithered in 1998, some of its constituents moved over to the BJP. Naidu was one of them. It was Naidu who had demanded Modi's resignation after the 2002 Gujarat riots, but he had no qualms in praising Modi in 2014. Leaders like Naidu are quick to change colours. Can Modi afford that? Not at this time.
(Ashutosh joined the Aam Aadmi Party in January 2014.)
Disclaimer: The opinions expressed within this article are the personal opinions of the author. The facts and opinions appearing in the article do not reflect the views of NDTV and NDTV does not assume any responsibility or liability for the same.