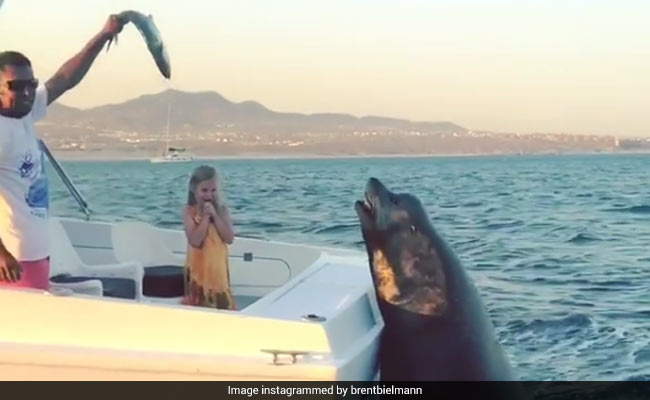 This massive sea lion was clearly hungry and looking for a bite to eat. And what he did to satiate himself has the Internet stunned. The enormous sea lion hopped onto the back of a fishing boat and waited till the people on board threw it a large fish to snack on. A person on a boat close by filmed the entire incident and posted a short video to Instagram.
Last week, surf photographer Brent Bielmann posted a video showing the sea lion riding on the back of the boat in Cabo San Lucas, Mexico politely waiting to be fed. "We caught this guy ridin dirty a few weeks back in Cabo! #biggie (sic)," he wrote in a caption accompanying the video.
In the clip, the large sea lion stares longingly at a fish a person on the boat is holding up in his hands. The entire time a little girl in a yellow dress looks on with a mixture of disbelief and excitement.
"It's huge," exclaims someone in the background. "This is a viral video."
The passengers on board seem to taunt the sea lion by dangling the fish near it before finally tossing it over.
Watch the viral video below:
The video has been viewed over 750,000 times and has thousands talking.
"That's Poncho! Cute but deadly. Don't let him fool you," writes one person on Instagram.
According to reports, a colony of sea lions live in the area. One seal in particular, dubbed
Pancho
by locals, often catches rides on boats returning from fishing trips, hoping for a quick snack.
"I don't know if this is hilarious or terrifying," writes another person on Instagram.
"Someone missed the video where the girl gets pulled into the water by a sea lion...this behaviour is going to get the sea lion killed or someone injured, maybe both. Not cute, sorry," comments one person angrily.
Last month, a
viral video
captured the terrifying moment a sea lion yanked a little girl into the water in Canada. A man immediately jumped in to rescue the girl. Neither were injured.
Click for more
trending news