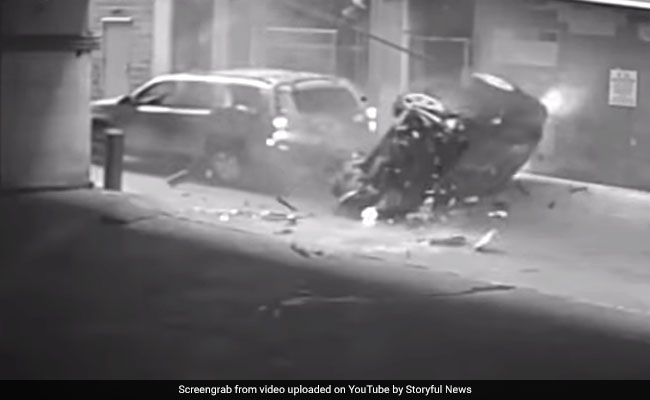 Highlights
BMW sedan narrowly missed SUV, flipped over after seven-floor fall
Fortunately, both drivers survived the horrific accident
BMW driver reportedly hit accelerator instead of brake
Terrifying surveillance footage captures the exact moment a car plunged down seven floors from a parking garage, hit another vehicle and flipped over. Incredibly, the driver in the car survived the horrific accident.
The video begins with a large SUV exiting out of a parking garage in Austin, Texas. The SUV's driver suddenly hits the breaks. Moments later, a BMW falls from seven stories above. The car lands front-first onto the pavement, then violently bounces on the SUV before turning turtle. Shocked bystanders rush to help free the driver from the car.
According to the
American-Statesman
, the woman driving accidentally hit the accelerator instead of the brake pedal and crashed through the parking garage barriers. She was rushed to hospital with "non-life-threatening injuries."
Watch the video below:
The Austin Police Department released the dramatic CCTV footage on Thursday, but say the accident took place on July 13.
Worryingly, this isn't the first time an accident like this has occurred at this parking garage. According to
KXAN
, another car "drove through the retention wires of the same garage and was left dangling nine stories in the air, but didn't fall" last September. That car's occupant managed to climb out of the car to safety with the help of a bystander.Click for more
trending news