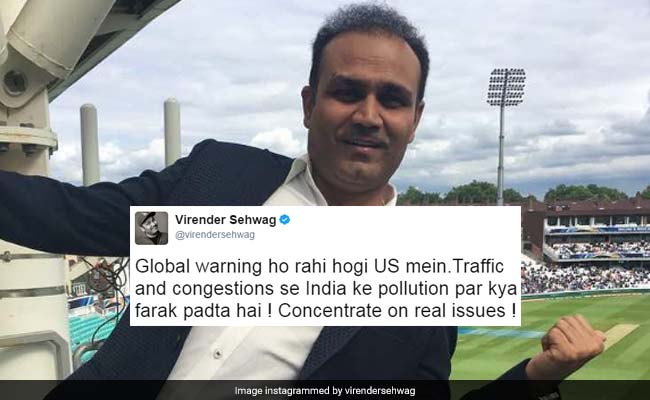 New Delhi:
About two hours ago, cricketer Virender Sehwag posted a tweet dismissing global warming as something that's happening only in the US. In the tweet, the former cricketer suggested traffic and congestion has no link to pollution and that people should concentrate on the real issues. He didn't specify what those real issues are.
Global warning ho rahi hogi US mein.Traffic and congestions se India ke pollution par kya farak padta hai ! Concentrate on real issues !

- Virender Sehwag (@virendersehwag) June 2, 2017
The weirdly-worded message left people very confused, with some wondering whether he was being sarcastic in writing the tweet.
Many, however, slammed the cricketer for his views on global warming, in which he misspelled as 'warning'.
Global warming IS THE REAL ISSUE. Biggest threat to our Planet. In your school, hire qualified Science teachers who don't talk like you. Thx

- Priyanka (@autumnrainwish) June 2, 2017
Global warming in USA ? Hahahaha global hai bhai. Worldwide

- Rohit Kaushik (@rohitkatwit) June 2, 2017
Kya Viru? Kuch toh Socho yaar! Impressionable kids follow you. Embrace your power with responsibility man. Don't get played.

- Amit Mehra (@amitmehra) June 2, 2017
You should be tweeting more responsibly when millions of people take your words for the truth.

- Vrigu Mohanty (@vrigu) June 2, 2017
Indian environmentalist Sunita Narain also replied to Virender Sehwag, explaining the link between traffic, pollution and climate change
Not sure what he means by real issues? Does he not know traffic=pollution=GHG emissions=#climatechange. But maybe this is not imp for him

- Sunita Narain (@sunitanar) June 2, 2017
Many asked him to clarify what he meant by 'real issues'
What are the real issues according to you sir??

- Ganda Baccha (@GandaBaccha4) June 2, 2017
And this one tweet summed up how most people felt
Can sm1 explain what he meant pic.twitter.com/6hbvKls3Bi

- :) (@Komal_Indian) June 2, 2017
After the original tweet garnered a lot of reactions on social media, Virender Sehwag posted a video on Twitter with an explanation. In it, he revealed that his first tweet was part of a corporate campaign to raise awareness about traffic and pollution ahead of Environment Day.
.Great to see so much concern.Traffic & pollution r real issues! This World Environment Day,Ola Share karo, congestion ghatao #FarakPadtaHaipic.twitter.com/squOq840KQ

- Virender Sehwag (@virendersehwag) June 2, 2017
Click for more
trending news