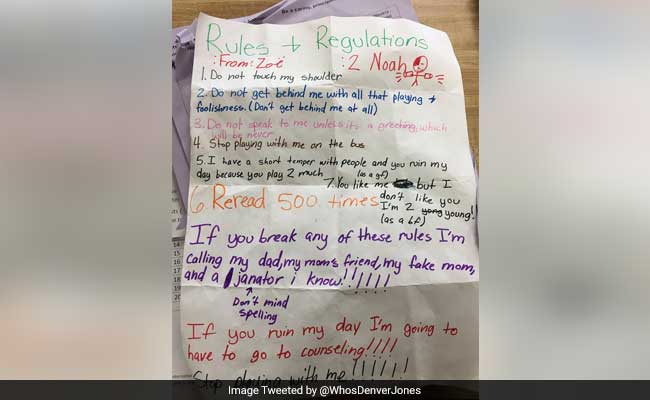 Highlights
In her note, young Zoe lists down seven points for a boy called Noah
The note was tweeted by Denny Dimples after her friend sent it to her
Since September 16, the post has received over 10,000 'likes' on Twitter
'Don't get behind' this feisty fifth grader, she'll call her dad, her mom's friend, her fake mom and a janitor she knows (in that order) on you.
An elementary school student's set of rules and regulations for a clingy little boy, probably her classmate, has gone viral. The note was tweeted by Denny Dimples after her friend, a fifth grade teacher, sent it to her. Since September 16, the post has been retweeted more than 6,600 times and has over 10,000 'likes.'
In her note, young Zoe lists down seven points for a boy called Noah, who really needs to stop playing with her. He also needs to not touch Zoe's shoulder and speak to her unless it's a greeting, which, by the way, will be never, as she clearly states in her letter.
For Zoe, it seems no means no. She also feels she's too young to have a boyfriend and doesn't 'like' Noah the way he 'likes' her.
Take a look at Zoe's entire note in the tweet below and reread it 500 times as per instruction:
My friend who's a 5th grade teacher just sent this to me! I'm dead!!! pic.twitter.com/FSDBxs9Vtq

- Denny Dimples (@WhosDenverJones) September 15, 2016
Boy, Noah really hasn't impressed Zoe at all.
We don't know what happened eventually but we do hope everyone learns a lesson about boundaries from young Zoe's note.