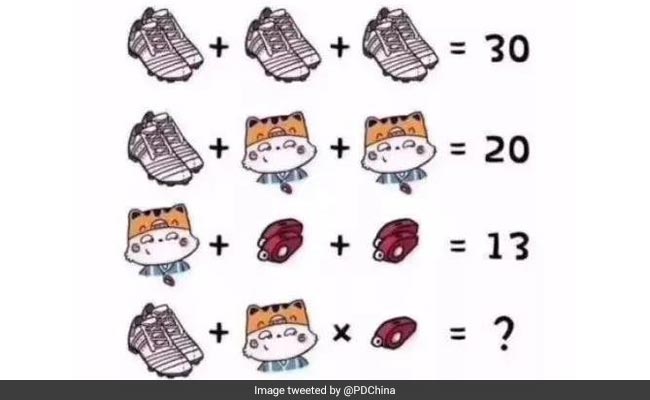 Almost everyone who doesn't like Math has wondered at least once in their life - where will I use the complex concepts of BODMAS, trigonometry, calculus, etc in life as a grown up. Well, serious real life situations aside, the reason you needed to pay attention in Math class is all these interesting and confusing puzzles floating all over the Internet. Whether you like it or not, chances are you've stumbled on your fair share of Math related brainteasers that need you to arrive at a certain solution. And there's usually no option but to solve it by either arriving at the correct answer that's shared or the most common answer.
So, there's a new Math puzzle that has many online arguing over its answer. Posted on the
People's Daily, China
Twitter page, the quiz is a pictorial puzzle. It requires you to arrive at the answer already provided and that's where the confusion begins. Do you have what it takes to solve this puzzle?
The problem at hand is based on equations. It requires you to solve it by calculating the numbers assigned to each object in the picture. It gets tricky in the end because the objects appear slightly different and that may or may not indicate that their value changes as well. Take a look:
Are you a math genius? Test your brain with this Chinese math puzzle. Did you get it right? (HINT: The correct answer is 16) pic.twitter.com/BpdFyzB73y

- People's Daily,China (@PDChina) November 30, 2017
Like we said earlier, what makes this puzzle more interesting is that the answer to it is shared - it's 16. Here's how some people on Twitter have tried to explain the puzzle. While some have arrived at the same answer, many, not so much.
16 because the cat has taken off his whistle. Each whistle is 2. (A pair is 4). So last line is 10 + ((5-2)x2) = 16

- Kaaaaatie28 (@kbee287) November 30, 2017
Boots = 10
Cat = 5
Meat = 4
Therefore 10+5+4=19

- Morphic Fields (@MorphicFields) November 30, 2017
Sorry .the correct answer is 60

- yuki (@aquajarium) November 30, 2017
Multiply??!!! So 30

- dr hemant anant sant (@santhemant) November 30, 2017
19

- Ashwini (@a_sh_win_i) November 30, 2017
so many people are focus on the calculation, but the last cat doesn't wear a necklace. then that one doesn't equal to 5.

- (@Khloe_ccc) November 30, 2017
This question is so complex

- Jack (@Jack04955338) November 30, 2017
Unknown. You cannot know the value of the necklace without being given the answer of 16. I photoshopped the necklace and the "whistle" and made them the same size. The whistle is red. The necklace is not. They are not the same. The answer is not knowable on these facts pic.twitter.com/a9VWJmTIa9

- Zev Urquois (@zeurquo) November 30, 2017
Correct ans is 16. It damn true.. pic.twitter.com/n0YZF6jMYv

- Bishal Ghimire (@RealGhimire) November 30, 2017
November 30, 2017
Did you manage to arrive at 16 as the answer? Tell us using the comments section below. And remember, bonus points for showing your method.Click for more
trending news