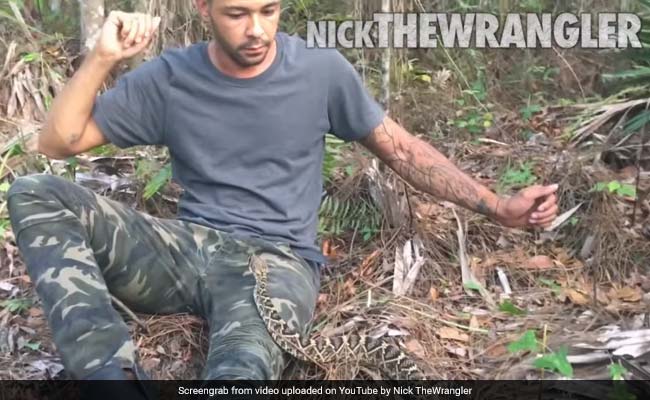 New Delhi:
YouTuber Nick Bishop, who goes by the name 'Nick The Wrangler', journeys through the US to look for and document wild snakes and animals. During one such journey, while looking for snakes, he sits down to take a break and a venomous rattlesnake slithers right up to him.
In the video, which has gathered 6.7 million views on Facebook since being shared just two days ago, Nick looks absolutely terrified. "I am afraid to move... I am frozen," he can be heard saying.
The snake, according to the video description, is an Eastern Diamondback Rattlesnake. These rattlesnakes are dangerously venomous, and even though they don't attack until provoked, their bites can prove to be fatal to humans, according to the
National Geographic
.
As Nick tries to get the snake to move away by gently touching its tail, it just slithers right up on him.
As his YouTube description itself states clearly: "This was a wild encounter with a highly dangerous venomous snake. Do not attempt."
Watch the terrifying encounter below:
"I don't know who was more nervous, him or me..." writes a commenter on Facebook.
Some, however, have called the video staged and 'suspicious', given that the cameraperson did not try to help Nick.
Let us know what you think using the comments section below.Click for more
trending news