There's no denying that online shopping is easy and convenient in more ways than one. However, buying things online has its own disadvantages too. You have to trust the product specifications provided and rely on the pictures before making your purchase. Sometimes, you're bang on with your selections, other times, not so much. The latter is what's sort of happening with some people who've picked up a particular giant teddy bear. And thanks to these people - and a tweet about them - the bear is going viral.
Behold: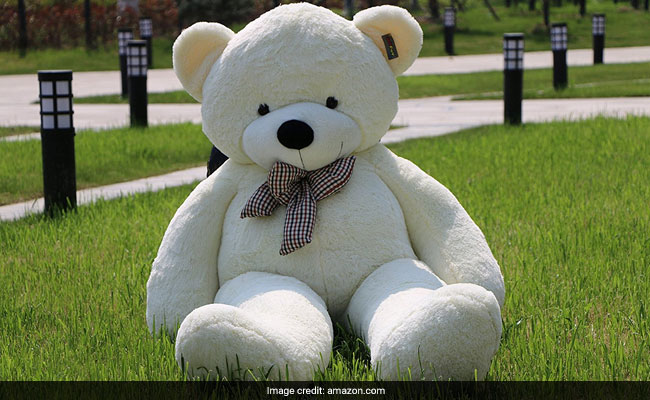 This adorable and huggable teddy bear is available online for people to buy for just $109.99. Would you like to buy it? If you love stuffed toys such as these, chances are your answer is 'yes'.
The 'Giant Teddy Bear' is 6.5 feet tall and available on Amazon to buy. Only there's a slight problem with the bear. There are several comments from people who have purchased the bear explaining just what's wrong with it.
"I was expecting the bear to be huge because it's 6.5 ft right? No, all of its height is from its legs and the legs are longer than its upper body," says one customer.
"Hideous! The legs are like 4 feet long making the bear look like a creepy gumby thing. I got this for Valentine's Day and would have rather had a cheaper more proportional bear... I mean this isn't even cute," says another.
There are many who love the bear as well. However, it is going viral now thanks to a tweet about the comments from unhappy customers.
i can't handle this pic.twitter.com/ExuMvB0vw6

- BeelzebubsBabygirl (@cooltonedcutie) November 9, 2017
Since being posted on November 10, the tweet has collected over 2 lakh 'likes' and more than 85,000 retweets.
And if you think this is funny, wait till you see the reactions on the tweet about the bear.
November 10, 2017
Order now and you get a free gift pic.twitter.com/Mk5Zwuihci

- puzzler (@c_reyes448) November 10, 2017
For some reason 'I would have rather had a cheaper more proportional bear' is the funniest thing I've ever read.

- Justine (@justinearino) November 10, 2017
Here's a better perspective :) pic.twitter.com/OaEJaO7f23

- Michael (@MMosiuc) November 10, 2017
November 10, 2017
Click for more
trending news