Chances are, text messages you send are often peppered with emojis or expressive and fun emoticons. Well, the next time you pick up your phone to shoot off a message with a smiley face (or any of the nearly
2,000
available emoji characters), think before you text. Why? A couple in Israel was recently fined around $2,200 or approximately 1.4 lakh rupees for their use of "misleading" emojis in communication with a prospective landlord.
According to
local
media reports, a couple used emojis that conveyed "great optimism" in a text message sent to homeowner Yaniv Dahan in response to an ad he had posted online.
Mr Dahan alleges that the couple's use of emojis led him to believe they wanted to rent his property.
Here is the text message that was sent to the landlord: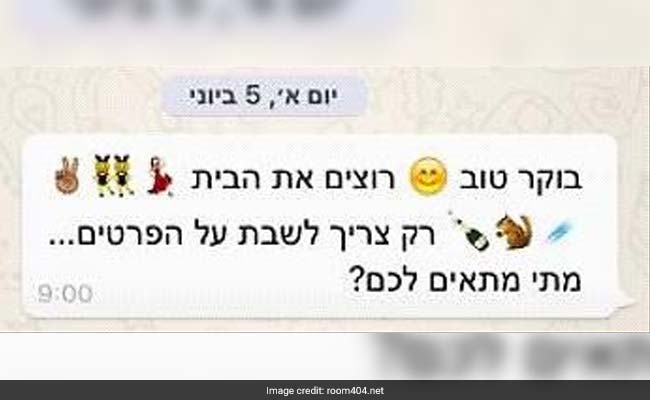 According to an
Israeli blogger
, the message, originally in Hebrew, reads: "Good morning (emoji) Interested in the house (emojis) Just need to discuss the details... When's a good time for you?"
Mr Dahan exchanged a series of messages with the couple over the course of a few days. Believing an agreement was in the works, Mr Dahan removed his property listing from the online classifieds site.
But then the couple went incommunicado.
That's when an upset Mr Dahan went to court seeking compensation, saying their messages indicated that the deal was as good as done.
The judge agreed, in part because of the emojis used.
"The (emoji-laden) text message sent by Defendant 2 on June 5, 2016...included a smiley, a bottle of champagne, dancing figures and more. These icons convey great optimism," said the judge in his ruling.
Guess who's using the dancing woman and champagne bottle emojis now? Click for more
trending news